Stumped on what to get the writer or aspiring author in your life for Christmas, their birthday, or any other gift-giving occasion? This mega-list includes creative, cool, and fun gifts any writer would love to receive.
1. The Writer's Toolbox

An entire toolkit of creative games and exercises to inspire the right side of your brain.

Click here for more tools to combat writers block.
---
2. Typewriter Charm Necklace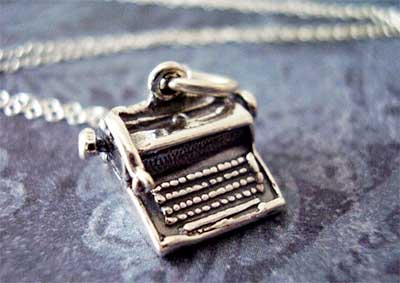 Writerly jewelry: sterling silver typewriter charm on a silver chain necklace.

Check out more typewriter gifts.
---
3. Typewriter Coaster Set
This is a practical gift with a fun twist. This five piece coaster set looks like an antique typewriter! it comes in a metallic stand that looks like a typewriter and features four coasters that look like antique typewriter keys. This is perfect for a living room or office to protect surfaces from rings caused by coffee mugs (or even adult beverages). Any writer would appreciate this fun gift.
---
4. Aqua Notes – Waterproof Notepad

The best ideas always come in the shower and are often forgotten before the writer can towel off. Now none of those brilliant lines will be lost! This waterproof notepad is perfect for jotting down dialogue, character names, and the perfect ending for their bestseller!

Click here for more clever gift ideas for writers.
---
5. Lined Paper Necktie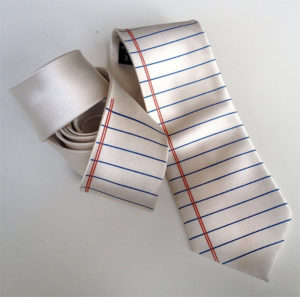 Let your writer guy show his passion with style. This necktie features a print that is lined like a sheet of loose leaf paper. This tie is perfect for English teachers or office workers who dream of quitting their job and writing full time.
---
6. Writer's Block Journal

This clever journal is made to look like a block of wood to help inspire any writer to get past their writer's block and finish their story.

Click here for more journal gift ideas.
---
7. Clip On Cup Holders
Let's your favorite author safely clip their cup of coffee or tea to the side of their desk, preventing any disastrous spills on their manuscript.
---
8. Grass Blade Pens
These pens are made to look like blades of grass and create a unique display to brighten up any writer's desk. Pair them with these
flower pens
to create a desktop bouquet.
Check out 15 more quirky and fun pens for writers.
---
9. Twiddle Fiddle Toy
The Twiddle is the perfect desk toy for a writer to fiddle with while they contemplate fixing their latest plot hole.
---
10. Field Notes Memo Books
The perfect pocket sized notebook for any writer to jot down their brilliant ideas.
---
11. Desk Foot Hammock
Let the writer in your life rest their feet as they type out the next hundred words of their novel. This desk foot hammock will let them stretch out and focus on their words.
---
12. Hourglasses for Writing Sprints
These sandtimers are perfect for timing writing sprints, so if the writer gets caught up in their words, they won't notice the time is up and will keep going. This set comes with a 30 minute and a 5 minute hourglass.
---
13. Fisher Space Pen
Writers at any angle and in zero gravity, and underwater–perfect for the novelist that likes to write laying down. Comes in 12 different colors.
---
14. Mobile Laptop Standing Desk
Write the next great American novel like Hemingway–by standing! This portable laptop standing desk lets you write in any room in the house while standing.
---
15. Quotation Mark Earrings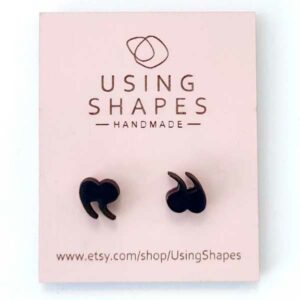 These cute quotation mark earrings will give inspiration to new, snappy dialogue every time your writer wears them.
---
16. Wonderbook: The Illustrative Guide to Creating Imaginative Fiction
The definitive guide to writing imaginative fiction, exploring creative visuals sure to inspire the writer in your life.
---
17. Bookaroo Pen Pouch
This handy gift for writers is great to give as a stocking stuffer or pair with a cool journal. The Bookaroo is a pencil holder that can attach to any book or journal, so a pen is always at hand with inspiration strikes.
---
18. Leather Journal Gift Set
Every writer needs a good journal, and this gift set is a gorgeous option. This handmade leather journal from Moonster comes with a pen and a gift box ready for wrapping. Perfect gift to inspire any writer to start their next story.
---
19. Folding Bluetooth Keyboard
This full-size QWERTY keyboard folds up for easy portability in a purse, messenger bag, or backpack. Pairs with any Bluetooth enabled smartphone or tablet.
---
20. Writer Patent Prints Art Set
This is a stylish set of vintage prints perfect for any writer's office or library. Each print is of the original patent for the typewriter, mechanical pencil, fountain inkwell, and the pencil sharpener. These 8×10 prints are ready to frame and make a lovely gift set.
---
21. Winsome Wood Small Writing Desk with Drawers
Every writer needs a dedicated space to craft their prose. This handsome wood writing desk is perfect for writers who use a computer, typewriter, or write by hand in a notebook. It also features a cubby hole and drawers for storage.
---
22. Pilot Fountain Pen
Enjoy writing by hand with this sleek and elegant fountain pen from Pilot. Don't forget to include
a journal for your writer
.
---
23. Under Desk Eliptical Trainer
Help the writer in your life stay fit with this under desk eliptical trainer. They can finish their novel and stay in shape at the same time.
---
24. "Go Away I'm Writing" Sign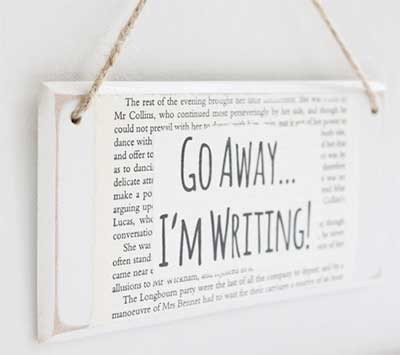 The perfect way for the aspiring author in your house to signal that they are busy writing the next great American novel and should not be disturbed.
---
25. Writer's Block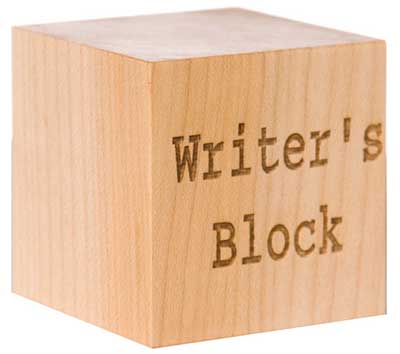 A literal embodiment of the Writers Block that plagues most writers. Perfect for kicking or throwing out the window in moments of frustration.
---
26. Fist Pen Holder
Help your writer contain their desk odds and ends with this unique pen holder. This fist holds pens, pencils and more. The wrist is magnetic to keep paperclips at bay. Adds a bit of playfulness to a writer's desk.
---
27. Fountain Pen Earrings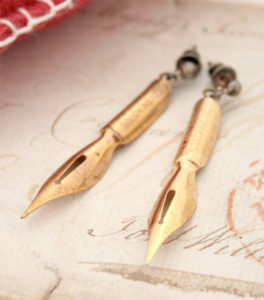 Lightweight, gold fountain pen earrings that will look perfect dangling from the ears of any author. Makes a great gift for historical romance and fiction writers.
---
28. Typewriter Keyboard T-shirt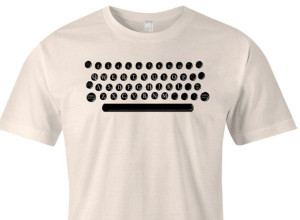 A great t-shirt for any writer, this one features the traditional round keys of an antique typewriter keyboard.
---
29. The Writing Manifesto Print
This inspiring piece of art is a must-have for any writer's office or bedroom. The Writing Manifesto is filled with writing inspiration to help bust through the worst writer's block. Available in two sizes already framed.
---
30. A Vintage or Antique Typewriter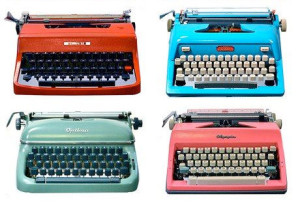 Help your favorite writer or aspiring author get back to basics with a typewriter. Vintage and retro typewriters come in a variety of styles and colors and make a unique gift.
---
31. It's a Good Day to Write Throw Pillow
Give some not so subtle motivation for your writer to get writing! This pillowcase gives the gentle reminder: It's a Good Day to Write. Available with or without stuffing in a variety of colors, so you can order the perfect one to match their decor.
---
32. Initial Typewriter Keys Cufflinks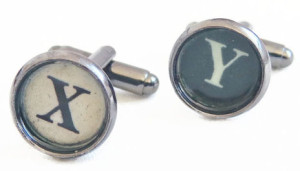 These are handsome cufflinks made from the keys of vintage typewriters, customized to whatever initials you need.
---
33. Ruled Paper Scarf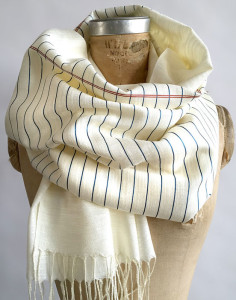 This scarf is a blank page they can wear to inspire them to write their next story.
---
34. Dragon NaturallySpeaking Software
Help boost your writer's productivity with the most popular speech to text program. They can tell their story out loud while Dragon transcribes it into their favorite word processing program.
---
35. Literary Writing Gloves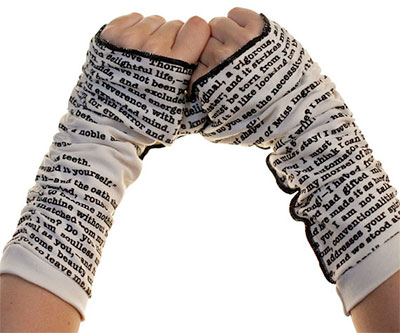 Help an aspiring writer keep their hands worm and get a little inspiration with these literary writing gloves. They feature text from famous books, including
Jane Eyre
,
Dracula
,
Little Women
, and more.
---
36. Hollow Book with a Flask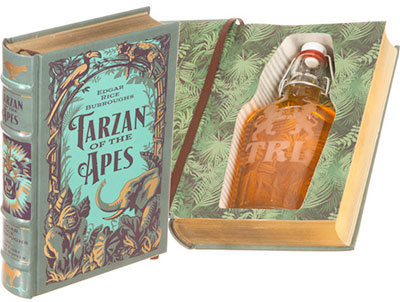 For a little "liquid inspiration," your favorite writer can turn to their favorite book for a hidden flask. A variety of real hollowed books are available in many genres, including classic literature, scifi, fantasy, and horror.
---
37. Typewriter Tote Bag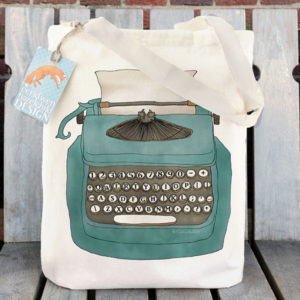 Let your favorite writer carry their books, notes, and ever growing collection of pens in this stylish vintage typewriter tote bag.
---
38. Modern Bookshelf
Writers have tons of books. Give them a cool and original, modern bookcase to display them on.
---
39. Balance Ball Chair
Gift the gift of a healthier back with one of these balance ball chairs.
---
40. The Writer Magazine Subscription
A subscription to The Writer magazine is a gift that keeps giving with each issue they receive.
Check out other magazine subscriptions for writers.
---
41. Instant Writer Mug
This mug is for the caffeine fueled writer in your life. The funny message says: Instant Writer, Just Add Coffee. This is the perfect writing gift for authors who get up early to write before work or stay up late finishing their pages.
Include some of their favorite coffee to make it a memorable gift set.
---
42. Noise Isolating Headphones
A nice pair of noise-isolating headphones will help them focus on their writing without getting distracted. These are perfect for writers who like to work at coffee shops and mute out the noises around them.
---
43. Laser Projection Virtual Keyboard
This Bluetooth keyboard takes mobile working to the next level, with a virtual laser keyboard. Compatibly with a Bluetooth enabled smartphone or tablet. Great gift for sci-fi writers.
---
44. The Writer's Coloring Book
Let them tap into a creative side from their childhood with this coloring book made especially for writers.
Check out adult coloring supplies to round out your gift.
---
45. Famous Authors Shotglasses
Now they can knock back a drink with some of the great literary drinkers like Oscar Wilde and Dorothy Parker. Includes memorable quotes.
---
46. Bamboo Keyboard and Mouse
An environmentally friendly typing alternative any writer would love. This keyboard and mouse set are made of beautiful bamboo for a luxurious writing experience.
---
47. Natural Light LED Desk Lamp
So they have plenty of nice, natural light to write by any time of day. Perfect for office desks or bedside tables.
---
48. Adjustable Laptop Bed Tray
So they can stay productive and work on their novel, even if they don't feel like getting out of bed.
---
49. The Big Ideas Notepad
Help them generate new ideas with the Big Ideas Notepad.
---
50. Portable External Hard Drive
So they can always back up their writing, no matter where they are. Even if they're on the go.
---
Need more gift ideas? Check out stocking stuffers for writers, killer journals for writers, and the best books for writing fiction.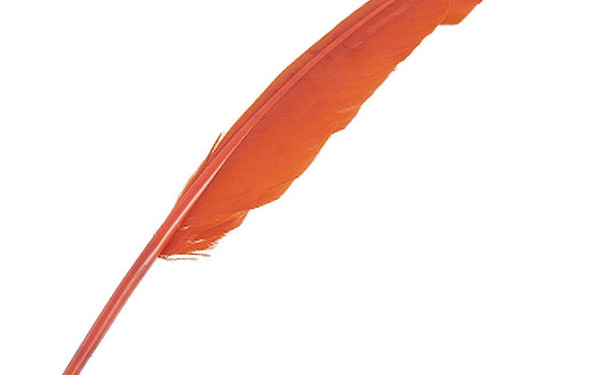 All writers use pens, some obsessively collect them, obsessed with different types and colors. If you're looking for a unique gift for a writer or aspiring author you know, these fun–sometimes a little wild–pens are a great gift to pair with a notebook or journal gift, or make a great stocking stuffer. Pens are affordable gifts and the ones on this list will certainly make for a memorable present.
1. Syringe Pens
Give a writer a shot of creativity with these multi-colored syringe pens. These ballpoint pens are made to look like a syringe with multi-colored liquid in each one.
This makes a great gift for authors of medical thrillers, medical romances, or even horror writers.
Note: while the pens are multi-colored, they all write in blue ink.
---
2. Bone Pens
The perfect pen for writers and authors who write on the creepy side of genre or enjoy the macabre. These novelty pens are shaped like bones including spines, arm, and leg bones.
These make a great gift for horror writers or writers of non-fiction related to medicine or anatomy.
Writes in black ink. 0.7mm ballpoint pens.
---
3. Tool Pens
There are multiple sets of these realistic and clever tool shaped pens:
Hand Tool Pens – wrench, screwdriver, nail, hammer
Not Very Dangerous Tool Pens – nail puller, saw, box cutter, needle nose pliers
Garden Tool Pens – hoe, pitchfork, shovel, and rake
Combine the above pen sets with this desktop miniature toolbox to create a completely unforgettable gift.
These are perfect for non-fiction writers of how-tos, or authors who are handy in their free time.
---
4. Electric Guitar Pens
These bold pens make a rockin' gift! These ballpoint pens are in the shape of electric guitars. Writes in black ink.
Try these pens as a gift for music critics, or writers of musician biographies.
Check out more gift ideas for songwriters. If your writer is more of a dummer type, try these drumstick pens.
---
5. Octopus Tentacle Pen
This tentacle pen may conjure memories of HP Lovecraft and Cthulhu, or pirate and sea stories that involve battling giant squids. This pen is realistically crafted to look like an octopus tentacle. Ball point pen.
Makes a great gift for writers of sea-based stories and non-fiction writers of ocean-related books and articles.
---
6. Food Pens
These food-shaped pens make great gifts that may inspire a little hunger in the receiver.
These are great gifts for food bloggers, writers of recipe books, and authors of cozy food mysteries.
---
7. The Procrastination Pen
Perfect for the writer who puts things off until the last minute. The Procrastination Pen has "Do It Later" written on the side. Writes in black ink. 0.6mm refillable gel pen.
For a productive writer (or to give your procrastinating writer a little kick in the pants), get them the Get Crap Done Pen.
---
8. Paintbrush Pen
This pen is perfect for a writer who is also an artist (or thinks of themselves an artist). This ballpoint pen looks like a paintbrush dripping with ink, ready to create the author's next masterpiece. Medium point pen. Writes in black ink.
This is a great gift for children's book authors who also do illustrations.
---
9. Flower and Plant Pens
Combining a couple of these different types of pens, you can create a bouquet or desk plant for them to display on their desk that doubles as attractive writing utensils:
This is a great gift for non-fiction writers of gardening books or authors who happen to love gardening.
Add this pen holder to create a beautiful gift.
---
10. Novelty Prediction Pen
This pen combines the utility of a normal ballpoint pen with the fun of a Magic 8 ball. Click the top and the Predict a Pen will give you an answer to guide your choices.
Perfect to help a writer during moments of writer's block or indecision over whether or not to kill a character. Includes 6 predictive sayings.
---
11. Feather Quill Pen
This is for the writer who loves the old school feel of a feather quill pen, but wants the convenience of modern pen technology. This ballpoint pen features a beautiful feather. Writes with back ink. Available in seven colors: black, natural, white, green. blue, lime green, and orange.
Perfect for writers of historical fiction and fans of Jane Austen.
Pair it with this antique paper or this antique, handmade leather journal for an unforgettable gift.
---
12. Maraca Pens
Put the party back in writing! These pens are in the shape of maracas, so every moment of writing is fun! "Fiesta!" is printed on the handle. Comes in a variety of colors.
---
13. Cactus Pen
Another fun gift for writers who like to garden or could use a little green on their writing desk. This cactus pen comes with a little pot that doubles as a pen cap and a stand. The spikes are soft, so it makes for a comfortable writing experience.
Perfect for non-fiction writers of gardening books or writers who love houseplants and gardening.
---
14. Dachshund Dog Pen
Add a little sparkle to the life of a dog loving writer. This dachshund hound pen is metallic purple and stands proudly on any author's desk. The dog is wearing a collar with a bell. Black ball point pen. Refillable.
This is a cute gift for any writer of dog related stories or just dog lovers in general.
---
15. Ninja Knife Pen
This pen is a little edgier than the others on this list. This knife shaped pen makes a "Shining" noise when you click the pen tip. Writes in black. Ballpoint pen.
This is the perfect pen for horror writers and authors of detective mysteries and other mystery novels.
Add these nunchuck pens to create a fun gift for any ninja fan.
---
Need more gift ideas? Check out our megalist of amazing gifts for writers.