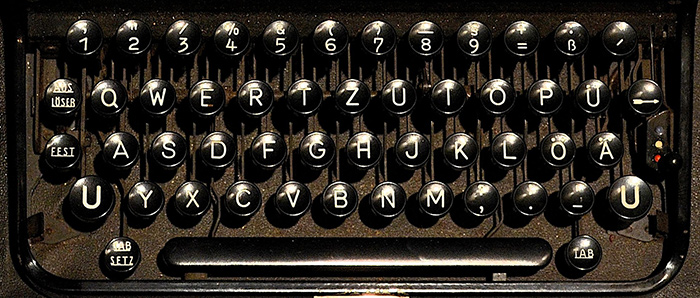 Sure, we're all pretty much using computers to write these days. But every writer can safely admit that there's a certain nostalgia about typewriters, especially vintage and antique-style typewriters. So if you're searching for creative and fun gifts for writers, a typewriter-themed gift can definitely fit the bill. We've gathered cool & unique gifts as well as some practical gifts that fit the typewriter theme. Check them all out below:
The Coolest Typewriter Gifts for Writers
1. Typewriter Coaster Set
I cannot get over these coasters–they are so cool. This coaster set features four coasters of typewriter keys that fit perfectly in the holder, which looks like an antique typewriter. Great for a writer's office, library, or just to use around the house. This is a classy gift for writers for Christmas or birthdays.
---
2. A Vintage Typewriter
I feel like every writer should own at least one good vintage typewriter. They look cool displayed on a shelf, plus they're super fun to use if you have writer's block or want to try being creative in a different way. A typewriter can really help you unplug from the internet and focus on writing. While you can search antique shops, thrift stores, and garage sales for old typewriters, you can also buy them on Etsy. Cleaned and serviced by the sellers, they're available in a variety of colors and styles.
---
3. USB Typewriter Mechanical Keyboard
This is perfect for the writer who likes the feel of vintage typewriter keys, but still wants to write directly to their computer. This mechanical keyboard features round chrome plated keycaps just like vintage typewriters and they make very satisfying clicks when you type. The slick design looks great on any desk and will delight writers who love typewriters and mechanical keyboards.
---
4. Typewriter Planter
If the typewriter enthusiast in your life is also obsessed with houseplants, then this is the perfect gift! This beautiful planter in the style of a vintage typewriter. Perfect for displaying succulents and other small plants.
---
5. Typewriter Sticky Notes
If you're looking for a small trinket for a gift bag or a stocking stuffer, check out this useful little gift. Sticky notes are so useful for authors to make notes and attach them to their manuscripts. This set comes inside of a vintage typewriter, with the notes popping out like they've just been typed. At the top of the post-it, it says "Once upon a time…" Great for any writer's desk, they'll find these little sticky notes inspiring and fun.
---
6. Typewriter Cufflinks
If the writer you're shopping for is a fashionable guy, then this is the perfect typewriter gift for him. These pewter handmade cufflinks feature vintage typewriters. This classy gift is perfect for special occasions or wearing day-to-day to the office.
---
7. Typewriter Teapot
If your writer enjoys a good cup of tea while they write, then they'll really love this unique gift. Carters of Suffolk makes this gorgeous teapot that looks like a vintage typewriter. While it may be better for decoration than day-to-day use (it is fully functional for tea), it looks gorgeous display on a kitchen shelf or even on the bookcase in their office. Include some literary teas and it will be a fantastic gift set.
---
8. Sweeney Typewriter Patent Print
This is a classy gift for a writer's office. This framed print is of the patent image from 1941 for the Sweeney typewriter. Since it's printed when you order, you can choose from five different sizes in 12 different colors to match any decor. This is a great gift for any writer, including journalists and copywriters.
---
9. Typewriter First Aid Kit
This is the perfect gift to include with a "new" vintage typewriter or for the collector who already has a collection. This Typewriter First Aid Kit includes everything you need for basic care and maintenance of typewriters. It has everything you need to clean a manual typewriter, including cleaning liquids, brushes, cleaning cloths, and a typewriter cleaning guide.
---
10. Typewriter Keyboard T-Shirt
Now they can wear their love of typewriters loud and proud. This t-shirt features a print of a vintage typewriter keyboard. Handprinted in the USA on a 100% cotton t-shirt, you can choose from 17 different colors and sizes small through 2X-Large.
---
11. Typewriter Bookmark
Writers are also readers, so a bookmark makes a fantastic gift, especially if you're giving them some writing books as well. This bookmark features beautiful illustrations ofantique typewriters. This gift makes a great stocking stuffer or just a small motivational gift for your favorite writer.
Check out more awesome bookmarks for readers.
---
12. Inspirational Rough Drafts Typewriter Sign
This cute sign is a fantastic inspirational gift for anyone who loves typewriters. Carved into birch wood, the sign features a vintage typewriter and the quote, "We're all rough drafts of the people that we're still becoming." This beautiful sign is perfect for a writer's office and comes in a variety of color options to match any decor.
---
13. Typewriter Enamel Pin Set
This is a cute little gift for any typewriter fanatic. This enamel pin set features two pins representing things many writers love: a vintage typewriter and a mug of coffee. Perfect for a stocking stuffer or to put in a gift bag.
---
14. Vintage Typewriter Pouch
This gift is perfect for creative writing students and writers on the go. Handmade from 100% cotton, this pouch is 6.5″ x 11″ and perfect for pencils, pens, and any other writing supplies. Great for writing in a journal or making edits on a manuscript.
---
15. Typewriters: Iconic Machines from the Golden Age of Mechanical Writing Book
This gift is perfect for typewriter nerds that already collect a ton of vintage typewriters and can't get enough of these machines. This book about the history of typewriters, from the invention of the QWERTY keyboard to now. Filled with tons of facts and history, this book also has gorgeous photos of vintage typewriters. This book is a historical trip that typewriter fanatics will really enjoy.
---
16. Typewriter Mug
I love the design on this mug. Handmade by Etsy Shop Mhuglife, this ceramic mug features a cute illustration of a vintage typewriter with the words "Story Teller." These mugs are dishwasher and microwave safe and come in your choice of size: 11 oz. or 15 oz.
Including some of their favorite tea or coffee to make a gift bag they'll really appreciate.
---
17. Typewriter Scarf
This scarf is a practical and fun gift for writers who love typewriters. This gorgeous cotton/silk blend features a colorful illustrated print of vintage typewriters. This lightweight scarf is the perfect accessory for any outfit and perfect for spring weather.
---
18. Underwood Typewriter Tie
This is a gorgeous gift for the guy (or gal!) in your life who can't get enough of typewriters. This vegan, silk-like microfabric features a print of a vintage 1934 Underwood manual typewriter. Since these ties are handprinted by Cyberoptix when you order them, you can choose between 18 colors in standard, narrow, and extra-large sizes. This tie is fantastic for special occasions, like celebrating a new book deal.
---
19. Typewriter Keys Tote Bag
If the writer you're shopping for often goes to a cafe or a library to do their writing, they're going to need a great bag to transport all their stuff. This is that bag. This tote bag features a close-up of the keys of a vintage Underwood typewriter.
---
20. Typewriter Key Bracelet
You may wonder what happens to all those antique typewriters that can't be repaired. Well, some of them end up recycled into gorgeous jewelry pieces like this bracelet. JustWearThis takes those keys, polishes and cleans them, then turns them into lovely vintage jewelry. This bracelet features 6 keys that spell out "Adorbz" though they offer a variety of different bracelets.
JustWearThis also sells typewriter key earrings, necklaces, and other jewelry in their shop. Click the button to check them out. Their jewelry is perfect for birthdays, Valentine's Day, and anniversaries.
---
Looking for more fun gifts for writers? Check out our gifts for writers megalist, these tools to destroy writer's block, and these super fun scrabble gifts.