Whether you've got a writer or an aspiring writer in your life, shopping for gifts for them can be hard, especially if you don't know anything about writing yourself. But it needn't be! There are plenty of great gifts available for writers and authors. From practical gifts that help them improve their writing to fun and creative gifts that will delight them, here are some clever gift ideas for writers to get you started in your search.
Clever Gifts for Writers
A Brand New Journal
Many writers are pretty old fashioned, but even the ones who do most of their writing on a computer still love the tactile feeling of pen on paper. Journals are fantastic gifts for writers of any type or experience level. Even if they don't want to write their next great novel by hand they can still use it to take notes, brainstorm new ideas, or even as a personal diary to record their experiences.
Moleskine journals (like the one pictured), are a favorite among writers and artists. They come in a rainbow of colors, lots of size options, and you can even find lined, unlined, or graph paper versions of their journal. Their pocket-sized journals are perfect for writing notes and story ideas on the go as they easily fit in a jacket pocket, laptop bag, or purse. Do a little investigating to find out their favorite color and what kind of notebooks they normally used and you'll be able to find the perfect Moleskine journal for them.
Check out more journal gifts for writers.
---
The Writer's Toolkit
The Writer's Toolbox is an extraordinarily well-reviwed kit by Jamie Callan, a creative writing teacher herself. It includes a book, dozens of story cards and story-starters, a timer, a goal spinner, and other accessories for aspiring writers that can jump start the process and get over writer's block in a matter of minutes. The writer's toolkit can inspire especially young writers to get started on their dream.
Check out more gifts to destroy writer's block.
---
Kindle eBook Reader
Kindle eBook readers can make an incredibly thoughtful gift for a writer who doesn't already have a device like this. Most writers read a lot, with bookcases overflowing with all the books they love. E-readers like the Kindle are a great alternative. They can hold thousands of books at a time and download new books wirelessly on the go, plus their battery life now lasts up to weeks (not hours!).
They're also smaller and lighter than a paperback and environmentally friendly too. Kindles also come with Good Reads integration which is a plus for many writers who use Good Reads accounts to track their (often long) "need-to-read" lists.
Add a Kindle Unlimited subscription so they have access to over a million Kindle ebooks for free and this will become their favorite gift ever.
---
A Shower Note System
This. Is. Cool. Ever come up with a great idea in the shower? I bet you forgot about it by the time you were done.
Chances are, the writer in your life probably has too. Well, no need to worry about forgetting it when you've got this innovative waterproof notepad called Aqua Notes, which lets your writer jot down that idea before it, well, evaporates by the time they get out of the shower.
This original gift is guaranteed to be something they don't already have. How cool is it? We're pretty much in love with this idea.
Check out more creative and fun gifts for writers.
---
"Novelist at Work" Sign
Now here's a very cute idea for a younger writer: A "Novelist at Work" sign. Or heck, even an older writer with a sense of humor. It's no secret that writers often take inspiration from the real world, and this sign makes that plain. Done in the same familiar style as other "WARNING" signs, it reads "Warning: Novelist at Work – Bystanders may be written into the story."
This is a great gift to customize an office or hang on a bedroom door. It measures a foot long by 8 inches wide.
---
Writing Magazine Subscription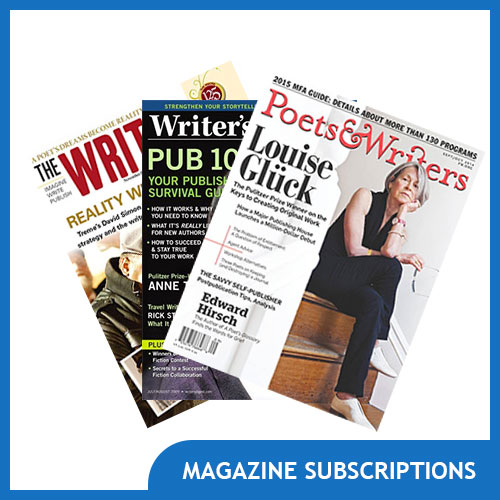 Magazine subscriptions are very much the gifts that keep on giving, year-round, so they make excellent gifts for writers too.
Luckily, there are a few magazines specifically for writers that you can purchase a gift subscription to. They often include writing tips, markets and contests to submit to, and profiles on famous authors. A subscription will delight and inspire any aspiring author.
Check out our list of the top magazines for writers to pick out the right one for the writer in your life.
---
Shhh! I'm Eavesdropping for Dialogue Ideas T-shirt
This funny t-shirt is perfect for writers who find inspiration for their stories in the world around them. It says, "Shh! I'm eavesdropping for dialogue ideas" with a listening ear. This lets everyone know that their first priority is juicy story ideas. Screenwriters will appreciate it, too.
Available in men's, women's, and youth sizes in black, blue, white, brown, and yellow.
Check out more funny t-shirts for writers.
---
Need more clever gift ideas? Check out our megalist of 50 gift ideas for writers and the list of unique writing gifts.