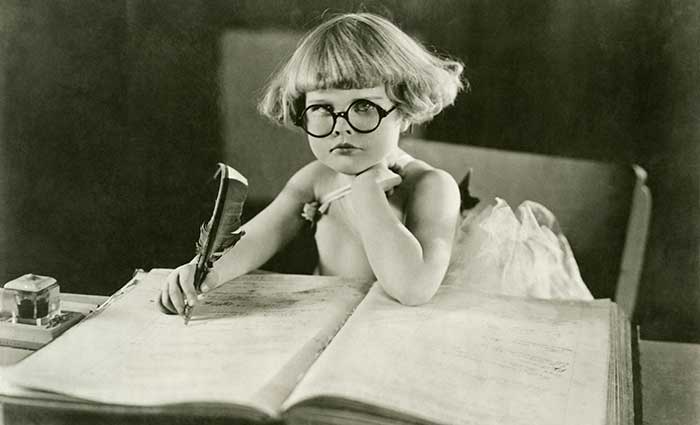 Many young writers aren't quite sure where to start. Or they know where to start, but haven't had any opportunity yet for formal instruction in creative writing (beyond what a school teacher can give them). Luckily, there are scads of resources written by professional writers to nurture the young writer and help grow their talent. We've gathered together some of the best inspirational books for aspiring authors along with fun and creative gifts to help them write and get their stories on the page. These gifts can also help them grow their thinking and problem-solving skills and learn how to express themselves more easily.
Gifts for Young Writers and Aspiring Authors
1. Letters to a Young Artist
Anna Deavere Smith, actress and playwright extraordinaire, offers advice to young artists from high school age to adult in this sometimes-funny sometimes-heartfelt tome. Smith shares anecdotes from her own life as a writer and artist, and also shares struggles she overcame during her decades-long career. This book is meant not only for young aspiring writers but also "performers, actors, and artists of every kind."
This book will make an inspiring gift and give great insight on how Anna persevered and built a successful career and reached her goals and dreams.
---
2. Before They Were Authors: Famous Writers as Kids
It can be hard for kids to imagine one day being a grown and successful author, but this book makes it a little easier to relate to big names. Written for kids 10 years old and older, this graphic novel tells us about the childhoods of now famous authors like Maya Angelou, Roald Dahl, and J.K. Rowling. Covering their struggles and their triumphs, this book not only educates the reader about the lives of these writers, but also shows the hard work that goes into a successful career. Inspiring, fun, and insightful for aspiring authors.
---
3. The Storymatic Kids
This creativity game for adults now has a version for kids that's perfect for young writers. Storymatic is a box of cards that works like an inspiration machine. You use the 360 cards by drawing them at random and trying to form stories from the cards. You never know where the story will go or how these cards will stretch your imagination.
These cards can be used solo by a writer working on a new story or as a game for the group. And youngsters aren't limited to writing stories with the ideas. It can be used to inspiring drawings, songs, plays, or even more. When used as a game it's great for families, friends, and even passing the time on road trips. Adults will have as much fun as kids when they play Storymatic. Recommended for ages 5 and up.
---
4. Future Best Selling Author T-shirt
Inspire the aspiring author in your life with this fun t-shirt. This shirt boldly proclaims: "Future Best Selling Author." This is a fantastic gift for young writers because it shows them that you support their writing and you know they have a future full of amazing stories and novels ahead of them.
Printed on 100% cotton shirts, available in men's, women's, and kid's sizes. Available colors: black, blue, red, brown, and purple.
---
5. 6 in 1 Retractable Pen
A good pen is a great way to inspire a writer to get some writing done, and this pen is a lot of fun for young writers. It's actually six pens in one–the barrel holds six different colors of 0.5mm ballpoint pens. The different colors are perfect for brainstorming, drafting, or even editing.
Check out more unique pens for writers.
---
6. The I Love To Write Book: Ideas & Tips for Young Writers
Reccomended for ages 9-14, The I Love To Write Book offers writing exercises, tips, and techniques for young writers to hone their craft. This book offers information about how to start writing a story (as well as poetry, book reviews, news articles), write compelling characters, and even how to revise writing and get your work published.
It also includes inspirational quotes about writing from authors of young adult fiction. Inspiring the budding writer in your life with this awesome gift.
---
7. Rory's Story Cubes Set
These fun cubes were originally created to foster creativity in younger writers. These story cubes are for when you're stumped trying to come up with a new story idea or they make a fun game. The dice feature illustrations drawn on each side. To play, simply roll the dice and try to create a story idea incorporating all of images. Sometimes it requires really stretching your imagination to make all of the elements come together.
The Story Cubes can be played as a game or used by an aspiring author to break their writer's block and get a new story idea. There are many themed sets available to match the interests of your young writer. Recommended for ages 8 and up.
---
8. LapGear MyDesk Lap Desk
Writers can't control where creativity strikes and a good lap desk allows them to work almost anywhere. Whether they're outside, on the couch, or even in the car, this lap desk makes it easy to write or draw by hand. It's also big enough to work on a tablet or laptop on it.
---
9. The Amazing Story Generator Writing Prompts
Sometimes the biggest struggle for a young writer is coming up with an original story idea. The Amazing Story Generator is the perfect anecdote to writer's block. Colorful and wacky, this prompt book is perfect for kids and young writers.
This is how it works: the book is spiral bound with three sections on each "page" that turn independently. The three parts are situations, characters, and events. Those three elements can be flipped to numerous story prompt possibilities.
Some example prompts:
On New Year's Eve, an unsuccessful comedian is transported to another galaxy.
In a post-apocalyptic world, a gold prospector assumes a new identity.
Upon winning the lottery, a reformed hit man meets the ghost of Ernest Hemingway.
This story prompt book is great for young authors and adult writers as well. This book will help inspire your young writer with thousands of exciting and unexpected story ideas.
---
10. Novelist at Work sign
Now here's a very cute idea for a younger writer: A "Novelist at Work" sign. Or heck, even an older writer with a sense of humor. It's no secret that writers often take inspiration from the real world, and this sign makes that plain.
Designed in the same familiar style as other "WARNING" signs, it reads "Warning: Novelist at Work – Bystanders may be written into the story." It measures a foot long by 8 inches wide. This sign is great for decorating a bedroom or office and signifying a dedicated writing space.
---
11. 642 Things to Write About: Young Writer's Edition
Writer's block beware!
This great guide for 8 to 12 year olds provides a wealth of writing exercises for any young writer. With prompts ranging from "create a haiku about your shoes" to "write a to-do list for a villain," the aspiring young writer in your life won't run out of ideas, or at least won't run out of ideas anytime soon. This book describes itself as "the ultimate playground for imaginative children."
Adult writers, don't be jealous, there's a version for you too: 642 Things to Write About.
---
12. Illustory Make Your Own Book Kit
There's no better way to really inspire and support a young writer than giving them the gift of publishing their own book. This kit has everything you need for your child to make their own storybook. They write and illustrate the story and then you mail it in and receive a professionally bound hardcover book. Your child will be featured as the author on the back cover.
This gift not only gives your child the chance to be published but also creates a beautiful memento that will be even more meaningful when they're a successful author when they're older. Recommended age 6+.
---
13. Spilling Ink: A Young Writer's Handbook
Spilling Ink has been called one of the best books on writing for young adults aged 9 to 14 out there.
It contains 288 pages of ideas and tips for young writers, in an easily readable format. With chapters like "Now we get to the weird stuff: plot" and "Is it really this simple?" Spilling Ink also offers advice on how to journal and name your characters.
Unlike other books, it doesn't offer "exercises" but instead calls its writing prompts "dares." Note that this book also contains illustrations.
---
14. Recycled Book Journals
Many young writers are inspired by books they've read in their childhood. Now you can give them a gift that helps bring that creative inspiration directly to their writing. Tell Another Story takes old books and recycles them into spiral bound journals.
Filled with 60 pages of unlined pages, these journals are perfect for writing stories, drawing illustrations, or just sketching. This is the kind of fun gift a young writer will really enjoy.
---
15. Cici's Journal: The Adventures of a Writer-in-Training
Aspiring writers 8 to 12 will relate to Cici. In this graphic novel, Cici dreams of being a novelist while solving mysteries. She keeps a notebook recounting her adventures as she observes the people around her and tries to discover their secrets.
The graphic novel is presented with pages from Cici's journal, scrapbook pieces, and her own doodles. An inspiring and imaginative story budding writers will enjoy.
---
Is your young writer also interested in drawing or art? Check out gift ideas for kids and aspiring artists.
Help encourage the young write in your life with these writing activities for kids.
Need more gift ideas for your children or grandchildren? Check out these articles:
Gifts for aspiring filmmakers
Weather gifts for kids
Space and astronomy gifts for kids
Gardening gifts for kids
Gifts for aspiring artists
Best hoverboards for kids
Activity trackers for kids
The best action cameras for kids