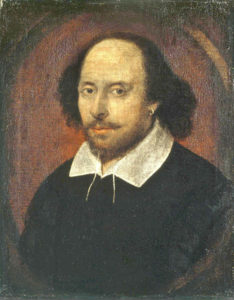 Everyone knows Shakespeare. Whether you've read his plays in high school or memorized every word of his sonnets with delight, the works of William Shakespeare have had an immense influence on the worlds of literature and drama. For Shakespeare fans, there is nothing better in this world than the Bard. And if you need to buy a gift for a Shakespeare fanatic, then you're actually pretty lucky. There are tons of Shakespeare gifts available, including jewelry and t-shirt, as well as even more bizarre, odd, and funny gifts. We've rounded up some of the best gifts for Shakespeare lovers. Whether you're looking for a classic gift or something completely original, you'll find it on this list.
Gifts for Shakespeare Lovers
1. William Shakespeare Action Figure
Just like Jane Austen, this literary hero has been turned into his own action figure. Standing at 5 1/4″ tall, this hard vinyl figure comes with a book and quill, so you can relive the excitement of Shakespeare penning some of his best-known plays. This action figure is perfect for displaying on a desk or bookshelf. For ages 12 and up.
---
2. The Complete Works of William Shakespeare
This is a must have Shakespeare gift for any fan! If the fanatic you're shopping for doesn't own his complete works, you must buy this for them ASAP! Edited by two Shakespearean scholars, this book includes all of his works, modernized and corrected. When looking for gifts for Shakespeare lovers, this book should be at the top of your list.
---
3. Romeo and Juliet Book Scarf
One of the most tragic and beloved of Shakespeare's plays, the tale of the star-crossed lovers Romeo & Juliet is often a favorite among his fans. This infinity scarf is hand printed with a romantic exchange between the lovers on oatmeal colored fabric. If your fan isn't into R+J, LiteratiClub offers Hamlet scarves as well.
---
4. Shakespearean Coffee Mug
Give your loved one the gift of enjoying a little Shakespeare with their coffee and tea each morning. These large coffee mugs hold 12 oz. of your favorite beverage and feature Shakespearean quotes on the outside. There are three options available: insults, love quotes, and dirty quotes. Pick the one that fits the personality of the gift receiver. Include a package of their favorite coffee or tea to create a gift bag they'll appreciate every morning.
---
5. Shakespeare Socks
Socks are a classic gift, often given at Christmas. Take your sock game to the next level with these Shakespearean socks. These socks feature a portrait of William.
---
6. Hamlet Necktie
This Shakespeare gift is a unique handmade item that is incredibly classy. Handprinted by Cyberoptix, this tie features the title page from the 1604 edition of "The Tragedy of Hamlet, Prince of Denmark" by William Shakespeare. This gives the tie a classic, vintage look that's great for the office, church, or just dressing up for a night on the town. The seller offers 5 colors options, so you can get the perfect tie for your love one.
---
7. Pop Sonnets: Shakespearean Spins on Your Favorite Songs
Some of the most creative gifts for Shakespeare lovers are the ones that offer a fun twist on the style of the Bard. Pop Sonnets takes 100 famous pop songs and reimagines them as Shakespearean sonnets. The book is divided into sections like "Sonnets of Love" featuring Never Gonna Give You Up by Rick Astley and Genie in a Bottle by Christina Aguilera or "Ballads of Heros" with classics like The Fresh Prince of Bel Air by Will Smith and "The Gambler" by Kenny Rogers. This is the perfect gift for music fans that love Shakespeare and iambic pantameter.
---
8. She is Fierce Shakespeare Quote T-Shirt
One of the most popular Shakespeare quotes comes from A Midsummer Night's Dream: "And though she be but little, she is fierce." This shirt is perfect for any fierce Shakespeare gal (or guy). Made from 100% cotton, this shirt is available in men, women, and youth sizes. Also available as a hoodie.
---
9. William Shakespeare Cookie Cutter
If the person you're shopping for loves to bake, then we have the perfect gift for you. This custom cookie cutter is 4″ in size and makes a perfect cookie in the likeness of Shakespeare's head. 3D printed with ABS plastic, the cutter includes details like facial features and hair. The cookies are great for decorating or just enjoying warm out of the oven.
---
10. The Play's the Thing Board Game
William Shakespeare fanatics and newbies alike will enjoy this fun game. Each player is an unemployed actor in Elizabethan England. To win you want to assemble all the cards need to perform a scene from Julius Caesar, Hamlet, or Romeo and Juliet. This a great game for theater lovers and real world actors–especially because they can act out the scene once they have all the cards. Definitely, consider this if you're looking for gifts for Shakespeare lovers who enjoy tabletop games.
The game offers four levels of play for different knowledge levels. 2-6 players. Recommended for ages 12 and older.
Check out more board games for book lovers.
---
11. Macbeth Quote Cuff Bracelet
This stylish gift is a brass cuff bracelet. It features a quote from Shakespeare's play Macbeth, using the text from the 1750 edition. The scene is the three witches standing around a cauldron casting spells. The result is a beautiful black bracelet with brass text. This is a great piece for casual or dressy outfits and a must-have for Macbeth fans. Made to order, each bracelet is unique.
---
12. Shakespeare Magnetic Poetry Kit
Perfect for refrigerators or school lockers, this is a gift that will inspire writerly Shakespeare fans. This Magnetic Poetry set omes iwht over 200 themed word tiles themed after Shakespeare's greatest works. This kit works great on its own or paired with any other Magnetic Poetry Kits. Imagine how creative you could get when combining Shakespeare with Yiddish or Freud.
---
13. William Shakespeare: An Adult Coloring Book
Shakespeare has made his mark on a lot of things: theater, literature, and now adult coloring books. Illustrated by Odessa Begay, this coloring book includes gorgeous illustrations inspired by Shakespeare's work. This book is a creative stress reliever that brings you into the world of Shakespeare's stories.
Don't forget to get some adult coloring supplies to go with your gift.
---
14. William Shakespeare Magnetic Dress-up Doll
Let your creativity play with this unique Shakespeare gift. This magnetic dress-up version of the bard lets you apply a variety of outfits and accessories using magnets. Each prop and outfit is inspired by one of Shakespeare's plays. Makes a great gift for young Shakespeare fans.
---
15. Shakespearean Insult Bandages
This is the perfect gag gift for Shakespeare fans and also makes a fantastic stocking stuffer! The bandages come with an illustration of the Bard and some of the most famous insults from his plays. Each tin has 15 bandages, each with a unique insult. These bandaids will add some fun to your boo-boo or can be given as a slight to your enemies.
---
16. Shakespeare, Not Stirred: Cocktails for Your Everyday Dramas
If you're searching for gifts for Shakespeare lovers who also enjoy a well crafted cocktail, then we've got the perfect present for you! Shakespeare, Not Stirred is a collection of cocktails inspired by the works of William Shakespeare. These include twists on classic cocktails and other fun libations. Enjoy a "Richard's Gimme-Let" or "Lady Macbeth's G-Spot" at your next party. To take your entertaining up a notch, the book also includes tasty hors d'oeuvres based on his characters and plays. Cheers to Shakespeare!
---
17. Dashboard Genius Shakespeare
Take the inspiration of Shakespeare's work on your next road trip. This fun and springy dashboard Shakespeare bust is a great Shakespeare gift, perfect for a gift basket or a stocking stuffer. Place him on your dashboard and he'll help you ponder, "To be, or not to be?" Have the Bard ride shot-gun and always keep you company.
---
18. William Shakespeare Deluxe Air Freshener
If you're putting together a gift bag for your Shakespeare fan, this air freshener goes perfectly with the dashboard bobblehead. Featuring the dignified image of Shakespeare, this air freshener smells like what the manufacturer describes as "Shakespearmint." At 4″ tall, this air freshener will look great hanging from the rearview mirror of your loved one's car.
---
19. Shakespearean Lip Balm Set
If you're looking for gifts for Shakespeare lovers that are practical and fun, check this out. This gift set comes with three Shakespeare-themed chapsticks. Each tube is decorated as either mint flavored Shakespeare, apple flavored Hamlet, and orange flavored Macbeth. This lip balm comes in a decorative box, great for gift giving. It's the perfect size to be a literary stocking stuffer.
---
20. William Shakespeare's Star Wars Trilogy
What happens when you take the literary stylings of William Shakespeare and combine it with one of the most popular sci-fi stories of all time? Magic! This collection takes the original Star Wars Trilogy and reinterprets it as if written by Shakespeare. What results is a unique, funny, and enjoyable retelling of the classicc space opera. This set includes the originally trilogy: Verily, A New Hope, The Empire Striketh Back, and The Jedi Doth Return. This mash-up is the perfect gift for geeky Shakespeare fans.
---
Still stumped on gifts for Shakespeare lovers? Check out 50 amazing gifts for book lovers and awesome bookmarks for readers for more ideas.