Either you know what it means when your friends and family post grey, yellow, and green boxes on their social media or I'm going to need you to explain how you got to this article. Wordle is the newest word puzzle craze and the people who love it really love it. So if you've got a Wordle lover in your life, you know they need an amazing Wordle gift. Here are some of our favorite gifts for Wordle addicts, from the funny to the practical.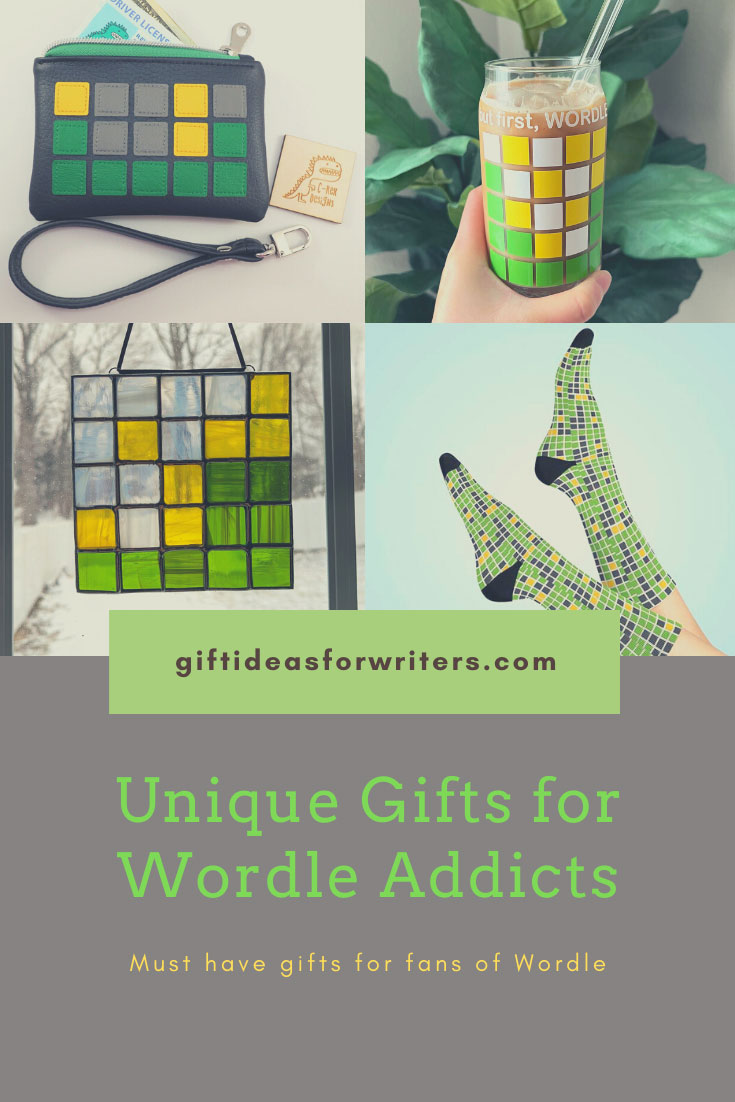 1. Wordle Game Earrings
This is a fun gift for a Wordle loving mom, girlfriend, or wife. These fun earrings each feature a Wordle game. You can pick a matching set or two different Wordle games. Available as fishhook earrings or clip-ons.
---
2. Wordle Slider Game Tool
This gadget is ingenious and the perfect tool to help people who struggle sometimes with coming up with 5 letter words. This wooden tool features five slots for letters and letter pieces that slide up and down to help you form words. It's great for people who are visual learners.
---
3. Dabble Word Game
If you want to give a gift that lets the Wordle Addict in your life play with others, Dabble is the perfect game. Two to four players compete against each other to take 20 letter tiles and form them into five words. It uses similar skills to Wordle, but allows you to play with friends and family. Meant for players 8 years old and up, the whole family can enjoy this fun word game.
---
4. Wordle Beer Can Glass
This Wordle gift is unique in two ways. First, it's a cool glass shaped like a beer can, the perfect way to enjoy a beer or a cold beverage after work. Also, it has a Wordle game on the side with the message "But first, WORDLE." This 16 oz. glass features a vinyl design.
---
5. Boggle Word Game
Boggle is a classic game that takes a traditional word search and turns it into a competition. Mix the letters up and set the timer, then see how many words you can find. Whoever finds the most words wins.
---
6. Wordle Socks
The classic grid of green, yellow, and gray squares has been translated to a cool sock design! These crew socks are a fun and subtle way to honor their favorite word game. These make a great "stocking" stuffer, too! Available in small, medium, and large sizes.
---
7. Wordle Hat
This fun baseball cap is a great way to show Wordle love! This hat is embroidered with a Wordle game on the cuff. Made to order, it's available in 12 different color options.
---
8. Phew Wordle Mug
All Wordlers know the stress of getting to their last guess and the relief of finally getting the word! This mug features 6 lines of Wordle, with the word guess in the last round, with the text "Phew." This 11 oz ceramic mug can also be customized with the name of your Wordler. Include some of their favorite coffee or tea to create a gift set they'll really appreciate.
---
9. NYT A Puzzle a Day Crosswords
If your Wordler enjoys the daily nature of Wordle, this collection of crossword puzzles from the New York Times will scratch that itch. It comes with 365 crosswords, one for each day of the year. They can challenge their word skill as they try to complete each puzzle.
---
10. Wordle Pajama Set
What better way to cozy up and play some Wordle than in a pair of Wordle pajamas. This women's pajama set comes with a shirt and shorts printed with the classic green, yellow, and gray Wordle squares. Available in sizes small through 2X-large.
---
11. Wordle Enamel Pin
This cute little Wordle gift is a fun way to show love for the game. Perfect to pin on a jacket or a bag, this enamel pin features a Wordle game. 2.4 cm long by 1.6 cm wide. Great stocking stuffer for Wordle fans.
---
12. Wordle Stainless Steel Water Bottle
Stay hydrated while showing your love of wordle. This stainless steel water bottle is 17 oz and insulated for hot or cold drinks. It features a winning Wordle game printed on the side. Handwash only.
---
13. Custom Wordle Art Print
This Wordle gift can be really meaningful when you personalize it for your loved one. These custom art prints can be made with any 5 letter words or names that you choose. Memorialize a tricky game, an inside joke, or a special memory. The poster comes as a digital download that you can print and frame.
---
14. Wordle Notebook
Keep track of your Wordle wins or strategize the best five letter starters words with this journal. This spiral notebook features a Wordle game with clever word guesses. Dimensions 5.25″ × 8.25″ with 140 dotted pages.
Check out more journal gift ideas.
---
15. Wordle Wallet Wristlet
This cute wristlet shows the world what a Wordle master you are! Featuring a Wordle game where you get in three rounds, this faux leather wallet fits in a purse or backpack. You can also buy the optional strap to carry it as a wristlet with all the essentials.
---
16. Wordle Board Game
Now you can bring your Wordle obsession to the real world–and play against your friends! Designed for 2-4 players, one player writes down a five letter word while the others try to guess the word. This game uses dry erase game boards and green and yellow playing pieces to duplicate the online gameplay.
---
17. Handmade Crochet Wordle Plushie
You won't find another Wordle gift as unique as this. The Lady Kay Designs handmakes these crochet Wordle plushies. They take the classic word game and turn it into an adorable creature. Perfect for cuddling up with while you play Wordle. Made from 100% cotton yarn. 6.5″ wide by 5″ high by 1.5″ deep.
---
18. "It's That Kinda Day" Wordle Fail Sticker
Any Wordle addict knows the devistation of being stuck with one letter unsolved and failing. This sticker fully captures that experience with the text "It's that kinda day." This vinyl sticker is available in a 3″or 4″ size.
---
19. Wordle Tote Bag
Add a splash of Wordle to your day-to-day life with this cute and practical tote bag. This bag features black cotton handles and is fully printed with Wordle squares. Available in three sizes.
---
20. Wordle Nerdle Pin
This pin features a fun wordplay–calling your love one a Wordle Nerdle. Great to pin to a backpack or jacket, this bold and uniquely illustrated pin by Faye Finn makes a funny stocking stuffer.
---
Looking for more gift ideas for a word-obsessed loved one? Check out gifts for Scrabble lovers and board games for book lovers.