This post contains affiliate links and I may be compensated if you make a purchase after clicking on my links.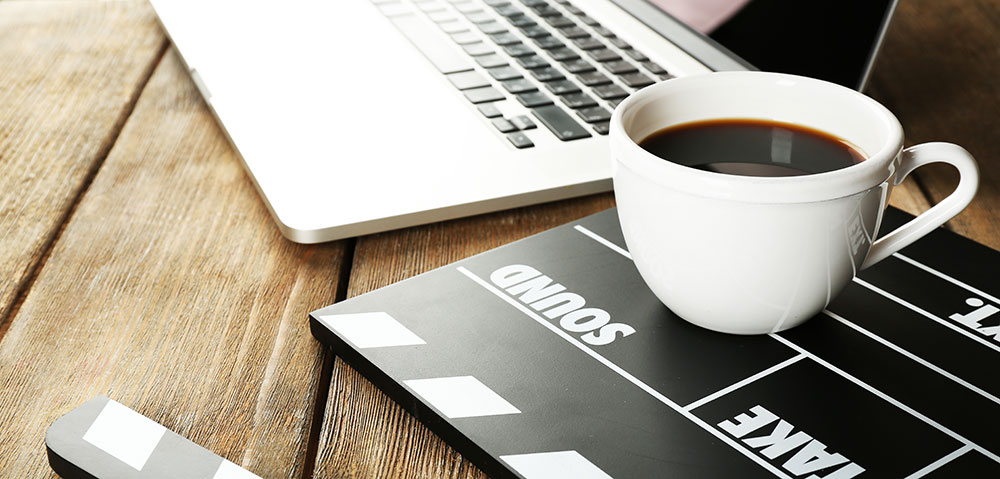 Screenwriters are a special breed of writers. While they can benefit and enjoy many of the general gifts and resources targeted at fiction writers, there are differences in the work they do and their overall interests. While the basics of a story may be the same, the focus on visuals and dialogue in screenplays as well as conforming to run times for movies and TV shows changes the process of writing a screenplay. Because of those differences, we decided to write a gift guide meant specifically for screenwriters. These gifts range from practical gifts like resource books and software to fun presents that are perfect to give for birthdays, Christmas, and any other gift-giving occasion. Check out our recommended gifts for screenwriters below.
Best Gifts for Screenwriters
1. Final Draft 12
Final Draft is the ultimate writing software for screenwriters. The gold standard for screenwriting software, it's used by 95% of film and television productions, including the likes of Aaron Sorkin, James Cameron, and TV writer Matthew Weiner.
Designed specifically for TV, film, and playwriting, it comes with 100 templates that help you easily write your script in the correct format. It also has Story Map and Beat Board to help conceptualize the story and break it down. Final Draft also allows for real-time collaboration with co-writers and has an iOS version so you can work on your scripts on your iPhone or iPad on the go.
Available for Mac or Windows PC.
---
2. Go Away! I'm Busy Writing the Next Blockbuster T-Shirt
This shirt is perfect to show your support of a young screenwriter. It says "Go Away! I'm busy writing the next blockbuster." Wearing this shirt will remind everyone to the let the screenwriter work while they compose the perfect movie idea.
Available in men's, women's, and youth sizes in black, navy, royal blue, and olive colors.
---
3. Shhh! I'm Eavesdropping for Dialogue Ideas Journal
Many writers work in public places like cafes or restaurants because it helps them avoid distractions they'd find at home. It also helps them get good ideas for their movies, including snippets of dialogue or ways of talking. This bold yellow journal states the obvious: "Shhh! I'm Eavesdropping for Dialogue Ideas." Great for jotting down spurts of inspiration.
The design is also available as a shirt, laptop cover, and other cool options.
---
4. Masterclass Subscription
Learning from masters in the field is one of the best ways to improve as a screenwriter. Masterclass allows you to learn screenwriting from some of the best writers in the field, all with one subscription. Currently you can take courses from Aaron Sorkin and Shonda Rhimes. Sorkin is known as a screen and television writer, especially for his snappy dialog on shows like The West Wing and movies like The Social Network. Rhimes has created a TV empire with shows like Grey's Anatomy and Scandal.
Taking a Masterclass gives the knowledge of taking an in-person class that would normally cost thousands of dollars for a fraction of the price at home. A Masterclass subscription includes unlimited access to video lessons, workbooks, and class discussions. If they're lucky, they may even get feedback from the professionals themselves.
---
5. Screenplay Art Print
If you're looking for a creative gift that is inspiring as well, this is it! Plotp Twist Prints Co. specializes in beautiful art prints of memorable moments from film and television. They come as stylish word art or looking like a piece of a script.
Pictured above is a print of the final scene of The Breakfast Club. Currently, the shop offers over 80 options so you're sure to find a screenwriter your loved one admires. They'll even do a custom print of a specific quote or movie script. Each order is a digital download that you can print from your home printer or at a local copy shop, making it a great last-minute gift option. Just pick up a nice frame and you're ready to go.
---
6. The Future of Film is Female T-Shirt
If the screenwriter you're shopping for is a woman, then this is the shirt to buy. This feminist graphic tee proclaims: "The Future of Film is Female." It's a great reminder that while women are traditionally underpresented behind the scenes of film and television, the movie industry is changing and there is more opporunity for women screenwriters, directors, cinematographers, and producers. This shirt makes a fantastic gift for young screenwriters and film students just starting out in their careers.
Available in women and men's sizes, so everyone can celebrate women filmmakers and writers.
---
7. Moleskine Classic Notebook
One of the natural traits of writers (which applies to screenwriters as well) is that their minds are always working in the background on their project. That means that inspiration or a breakthrough can happen at any moment. So even if the writer in your life usually composes their screenplays on a computer, there are times where having a notebook on hand is essential to jot down their next great idea.
Moleskine notebooks are a classic, premium notebook loved by writers and professionals in a variety of creative careers. With a variety of styles (lined, unlined, grid, etc.) and colors available, you're sure to find the perfect notebook or diary for the screenwriter in your life.
---
8. Screenplay Magnet
This cute magnet has a message any screenwriter can relate to–especially those who have a day job and have to work on their scripts on the side. The magnet says "All I need it to be left alone to write my screenplay."
It's perfect to display on a refrigerator, filing cabinet, or any other magnetic surface. This is a great stocking stuffer or the perfect gift to tuck into a gift basket.
Made to order in the USA.
2″ by 2″ magnet.
---
9. A Hard Copy of Their Favorite Screenplay
This is a gift that can be perfectly customized for the script writer you're shopping for. Find out their favorite movie and then there's a good chance you can get a printed version of the screenplay. This is essential, especially for new screenwriters, to analyze and understand writing in a screeplay format, as well as learning the craft behind these successful films.
Reading the screenplay give insights you can't get by simply watching the movie. They'll be able to see how the story looks on the page, including how settings, characters, and actions are described. Also, frequently what ends up in the final movie doesn't necessarily match the original script, so comparing the two can be a valuable lesson in crafting a better story.
---
10. Save the Cat!
Advertised as "the last book on screenwriting you'll ever need," Save the Cat focuses on crafting a story for your script that will sell. This best seller gives you all of the "secrets" you need to write a successful screenplay.
Great for newbie screenwriters and film students, this book covers genres, writing your hero, the standard beats for a movie (including Blake Snyder's Beat Sheet), plotting and outlining your script, "screenplay physics," and even tips on how to sell your script. They utilize examples from real blockbuster movies so you can see the "rules" in practice. This is an essential guide for any script writer who hasn't made it big yet and one of the most practical gifts for screenwriters.
---
11. Screenplay Mug
This mug can be a funny gift for the screenwriter in yourlife, or you can personalize it for them. HashtageDressed makes these mugs that feature the opening of a screenplay. You can order their default mug, which describes the writer sitting in a coffee shop working on their screenplay or have it customized with a portion of text from their favorite screenplay or a work in progress.
Make this an extra memorable gift by turning it into a gift bag. Include some of their favorite coffee or tea and maybe a few treats to help fuel a long night of writing and rewriting their script.
Available in an 11 oz. or 15 oz. mug.
---
12. The TV Writer's Workbook
A lot of scriptwriting books are targeted towards film, but writing for television is a different beast. If the writer in your life is more interested in crafting stories for the small screen, this book is perfect for them. This hands-on guide is written by ELlen Sandler (of Everybody Loves Raymond fame) and covers all the complexities of a career in television writing.
On the career side, she gives advice on how to get hired to write for a current TV series, what to do about agents and managers, and how to pitch a story idea. On the craft side, she breaks down everything about writing a story for TV, including the basics of story and plot, rewriting, and polishing off your script. This is a great introduction for students or writers looking to dip their toes into the world of television.
---
13. Careful or You'll End up in My Screenplay Tote Bag
Writers are always mining their real life experiences for inspiration and screenwriters are no different. In fact, if you do something memorable or embarassing, it's quite likely you might see it in one of their future scripts. That's the fun behind this tote bag for screenwriters.
The message says: "Careful or you'll end up in my screenplay." It's a fun and gentle reminder that writers are inspired by the world around them. Also, if you make them mad you might not like how you're portrayed in their story ;). This 16″ x 16″ tote bag is made of a canvas-like polyester, perfect for carrying their writing gear or their groceries.
---
14. Writer Emergency Pack
Every writer deals with it, that inevitable, inescapable writer's block. It can take the most exciting story idea to a complete standstill and last for days, weeks, months, or even years. While some writers will wallow in the misery of their creative block, a crafty screenwriter will utilize tools to get out of their funk and finish their script.
The Writer Emergency Pack is the "break glass in case of emergency" solution for writers. It's compact but it comes with 52 cards to kickstart the writing process. Half are illustrated idea cards to give you an idea of what to do next. The other half are detail cards that provide writing tips and story suggestions to try. These aren't abstract prompts, but real and concrete writing advice. This pack is great for screenwriters, fiction writers, and any other storytellers.
Check out more tools to destroy writer's block.
---
Screenplay: The Game of Movie Quotes
This game is made for screenwriters (though general movie buffs will enjoy it too!). Similar to Trivial Pursuit, the focus is on memorably quotes from movies scripts. Divided by genres, you will hear a movie quote and then be required to name the movie it came from and the actor or actress who said it.
Screenwriters who watch a ton of movies will really excel at this game, but it's fun for anyone who enjoys movies. Turn it into a writing exercise by discussing what makes each line memorable, whether its the actor's performance, the context in the greater movie, or just the excellent writing.
---
Writer Facts T-Shirt
There are a lot of traits that make up a successful writer, and this humorous shirt highlights a lot of them. Frames as the nutrition facts of a writer, we think they apply perfectly to screenwriters.
Imagination, bravery, passion, and insanity are some of the key straights of a great screenwriter. You need all of them to get through the slog of rejection, hard work, and self-doubt. Don't forget the blood, sweat, and tears that go into every script and project. Any writer will appreciate this shirt.
Available in men and women's sizes in five colors: black, red, purple, gray, and blue.
---
Movie Clapper Flash Drive
The first rule of screenwriting: back up your files! You never know when a power outage or harddrive failure will wipe out hours or even days of work. This movie themed flash drive is a practical gift to remind your favorite screenwriter to back up their scripts. Made to look like a movie clapper, the USB drive inside is perfect for backing up scripts, treatments, and pitches as well as other files.
It's so fun to use, they'll be dying to backup their script at any chance they get. It even comes in a gift box, making it perfect to give to your friends or family members.
Available in 4G, 8G, 32G, 64G, 128G, and 256G sizes.
---
Aquanotes
We've all had it happen. You're in the shower, all soapy, when suddenly you get the best idea. It happens to screenwriters too. They're in the middle of shampooing their hair when suddenly they get the perfect line of dialogue or a great idea to pitch as TV pilot. But when you're soaking wet you can't write anything down and grabbing your smartphone is just asking for disaster.
That's when Aquanotes saves the day! It's a notepad made of special waterproof paper that comes with suction cups and a pencil. All they have to do is hang it in their shower and whenever inspiration strikes they can jot it down. This fun and unexpected gift is perfect for screenwriters and other creative professionals.
---
Pitchstorm Party Game
This game is a hilarious twist on the nervewracking process of pitching a movie idea. You get to be an unprepared writer trying to pitch an off the cuff movie idea to studio execs. As you're pitching, they give you random ideas you have to incorporate into the pitch. This game will have everyone laughing. Perfect for parties and family gatherings.
---
Film Pencils
Perfect for writing notes about their latest movie idea, these film pencils feature pages from vintage film guides. Each set is completely unique, ready to inspire the screenwriter in your life. Comes in a vintage-style gift box.
---
Want more movie themed gift ideas? Check out stocking stuffers for movie lovers.
Need to shop for some filmmakers? Check out these gifts for documentary filmmakers and gifts for aspiring filmmakers & content creators.
Want to see fun and creative gifts for writers and book lovers? Try our megalists of gifts for writers and gifts for readers.