If your loved one is an author or aspiring writer, they've gotten tons of writing-related gifts for birthdays or Christmas. You've probably bought them plenty of pens, journals, or writing books to nourish their creative passion. But this year you want to be different, you want to be creative and get them a gift that's truly one of a kind. These unique gifts for writers are fun, inspiring, and special. They'll show that you not only love the writer in your life but that you've put a lot of thought into their special gift. Check them out below.
Unique Gifts for Writers & Authors
1. Mini Leather Book Necklace
This is one of the most unique gifts for writers. Home of the Muse makes these cute mini-book necklaces. They are handmade from leather and feature actual pages inside when you open the book. Give as is or write a special message or story inside for your loved one.
---
2. The Procrastinator's Handbook
Many writers have an issue with…putting off writing. It's a common issue, but tricky to tackle. If the writer in your life seems to distract themselves from their project by playing video games or cleaning out the fridge, they may need to address their procrastination problem. The Procrastinator's Handbook by Rita Emmett combines her advice with humor to teach the reader tips and techniques to master their procrastination. This is one of the few unique gifts for writers that address a major stumbling block for many creative types.
---
3. Crystal Creativity Bracelet
Crystals are frequently used to influence emotions and help pursue personal outcomes. Many crystals are perfect to stimulate creativity and this bracelet features three of them. With beads made from Carnelian, Chrysocolla, and Lapis Lazuli, this jewelry helps promote self-expression, self-trust, and remove creative blocks. This bracelet is a lovely gift for writers that not only looks beautiful but can help them pursue their creative passions. Makes a great stocking stuffer or romantic Valentine's Day gift.
Learn more about crystal bracelet meanings.
---
4. Dry Erase Board
A lot of writing time isn't spent writing. Instead, it's spent brainstorming, working out plot hiccups, and just trying to figure out how to end the damn story. A dry-erase board is a perfect tool for a writer's office. Great for brainstorming, arranging index cards, or just getting a little creative.
Include a nice set of dry erase markers and sticky notes, and your writer will be ready to tackle their next project.
---
5. A Fitness Tracker
I know what you're thinking: what does this have to do with writing? Well, a lot actually. Writing is an incredibly sedentary activity: an author sits at a desk and writes. Sometimes they're spending hours each day writing and reading. This can lead to a ton of health problems. A fitness tracker can help remind them to exercise and meet fitness goals. Many bands also have built-in Move Reminders that make sure they get up and move around at least once every hour. Plus, exercise boosts creativity, so you're still helping their writing career.
If you're on a budget, check out the best cheap fitness trackers.
---
6. Writer Business Cards
Most people don't think of business cards when they think of authors, but writing is a business like any other. It requires networking and building connections in the publishing industry. If the writer in your life is attending conventions and meeting other writers at local events, having some high-quality business cards can really help them make a good impression. These cards are unique gifts for writers and are greatly appreciated by cash-strapped newbies and students.
---
7. A Writing Space Away From home
If your writer doesn't have a dedicated office or often finds themselves distracted by kids, pets, or chores, sometimes the best gift is somewhere to go and just write. This will depend on how your writer likes to work, but you can buy them a subscription to a co-working space or a dedicated writers space where they can go daily to focus on their work (the Writer's WorkSpace in Chicago is a great example of this kind of space). If your writer prefers to work in a coffee shop, buy them a gift card to their favorite cafe. If your loved one is frugal and prefers to write at the library, make them some IOU cards (get free printables) for things like watching the kids for two hours or taking care of chores so they can go write. If you've got a big budget, fund a writing retreat weekend for them at a hotel, cabin, or other picturesque location.
The gift of time to create is priceless and greatly appreciated by any busy writer.
---
8. Typewriter Jewelry Box
Typewriters have a special place in most writer's hears, even if they do their writing on a computer. This gift is a nice reminder of vintage typewriters but with a hidden purpose. This is actually trinket box, perfect for storing jewelry, pens, or other little knick knacks. It looks great on a shelf, a dresser, or even a writing desk.
Check out more typewriter gifts.
---
9. A Writer's Website
Once a writer starts publishing stories or books, they'll need an online presence to keep fans up to date on their latest work and advertise to new readers. One of the most important ways to do this is through a website, but some writers put this step off. A practical and unique gift for writers is to buy them a domain and web hosting. Usually, the best domain features their pen name so it will be easy for fans to search and find them.
We use Dreamhost because it is perfect for buying domains and hosting our website all in one place. They're also incredibly easy to use with WordPress, making them a great option for beginners.
---
10. A Customized Writer's Gift Basket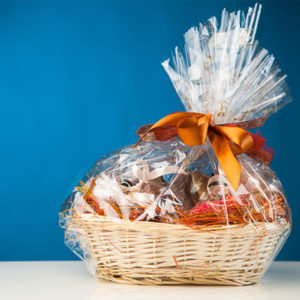 The best gifts are the ones that come from the heart. With a little time and some creative thinking, you can create one of the most unique gifts for writers: a 100% customized gift basket. Make it an emergency kit of all the comfort foods and items your author needs during writer block or an editing crisis. Or create an inspiration basket full of inspiring books, art, and trinkets. Or do a combination of both.
Check out our article on DIY Writer Gift Baskets for tons of ideas.
---
Want to see fun and creative gifts for writers and book lovers? Try our megalists of gifts for writers and gifts for readers.