The art of writing is not a simple one. It required plenty of practice, research, planning, and actually writing. To make this task a little easier, it helps to keep reference books on hand to help dispel writer's block and answer questions about spelling or grammar. We've come up with our top list of must have reference books for writers.
If you're looking to buy a practical gift for a writer or aspiring author, any of these reference books will easily earn a spot on their desk and will be well used as they write new stories. Include a fun bookmark to add a little extra fun to the gift.
The books in the list are mostly selected for fiction and creative writing, though some of them are perfect for any kind of writer, including non-fiction writers, bloggers, and journalists. These books should definitely be owned by novelists and short story writers to help improve their fiction.
The Best Reference Books for Writers
Master Lists for Writers: Thesauruses, Plots, Character Traits, Names, and More
This book from Bryn Donovan aims to help you write your story more quickly with an all-in-one reference book. As you may guess from the title, this book is a collection of lists to help inspire you and be more creative with your stories and your writing.
Some of the interesting lists included in this book are:
Emotional Descriptions
Scents for Settings
Plot Points That Can Melt Reader's Hearts
Motives for Murder
Ways People Say No
100 Negative Character Traits
This book is chock full of great ideas and lists, broken into seven sections that cover all the parts of writing: characters, dialogue, action, plotting, setting, and description. This is a great book to have on hand when you're stuck and need a little inspiration or nudge in the right direction.
---
Merriam-Webster's Dictionary and Thesaurus
With the prevalence of the internet and smartphones, most reference information (including spelling and word definitions) is available with a tap or a question to Siri. A writer should have a Dictionary and a Thesaurus on their desk. This Dictionary and Thesaurus combo from Merriam-Webster gives you the benefits of both in one convenient book.
Why does a writer need a physical dictionary? It's not just because it looks good on their desk. Referencing a dictionary not only helps a writer find the correct spelling or alternate words to use, but it helps expand their vocabulary. Writers should keep a dictionary close at hand when they read and look up any words they're unfamiliar with. Using a print dictionary means you'll have to flip through many pages to find the word you're looking for. While you're searching you'll discover new words and definitions, something that doesn't happen with a computer dictionary. This helps increase your vocabulary and improve your writing. A good dictionary and thesaurus is a worthwhile investment for any high school or college student and a must-have for an aspiring writer.
---
The Grammar Bible
The mechanics of writing are boring and the least glamorous part of the writing process. But, they're a necessary part of the written word, so every writer needs to understand grammar. This reference book by Michael Strumpf, the creator of the National Grammar Hotline, is the only book you need to answer all of your grammar questions. In fact, instead of being written like a boring college textbook, Michael has structured the book to answer actual grammar questions he's encountered over the years.
The entire book is written in a fun and approachable way, giving you the grammar knowledge you need to write your story without boring you to sleep. Every writer should keep this grammar guide on hand to quickly and easily clear up questions and help produce a clean, easy to read manuscript.
---
100,000+ BABY NAMES: The Most Complete Baby Name Book
There's nothing that can break your writing flow worse than having a new character walk into a scene and being absolutely stumped on what to call them. A good baby name book helps take the challenge out of naming characters. The benefit you'll get from a name book comes in it's reference value.
The book we've recommended by Bruce Lansky covers the more important thing you need in a name book: name meanings and name origins. This helps you find authentic names for characters of any background and also helps you if you want to give your character a name with a significant meaning. Another bonus with this book is that in addition to the thousands and thousands of names, it also includes articles about gender-neutral names, naming trends, and more.
Keeping a baby name book on your desk is a great reference tool to add diversity and creativity to your character names.
---
Self-Editing for Fiction Writers: How to Edit Yourself Into Print
This is the number one book I recommend to my writer friends and one of the most essential reference books for writers. Self-Editing for Fiction Writers is written by two professional editors to help guide newer and aspiring writers take a manuscript with good potential and turn it into a publishable story or novel.
The book is divided into several sections like characterization, dialogue mechanics, voice, etc. Each section talks about weak writing to look for and correct, using examples from real manuscripts. At the end of the section is a checklist of points to use when editing your own writing, and then a few writing exercises to help you practice the new techniques.
This is an essential book to keep on your writing desk. Read it all the way through and then reference it again and again as you edit your work.
Save on Pinterest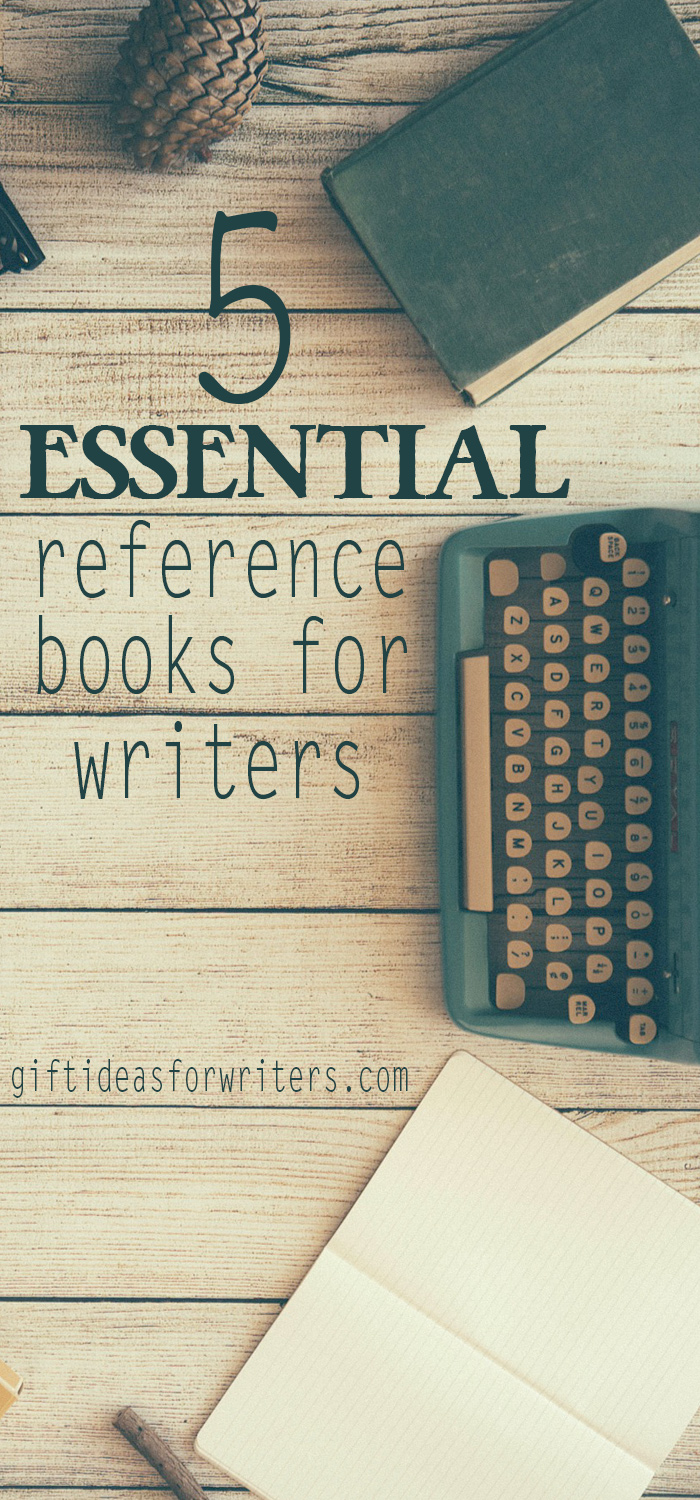 ---
Looking for more practical gifts for writers? Check out software for writing a book, cheaper Freewrite alternatives, magazine subscriptions for writers and awesome journal gifts for writers.
Want to see fun and creative gifts? Try our megalists of gifts for writers and gifts for readers.
---