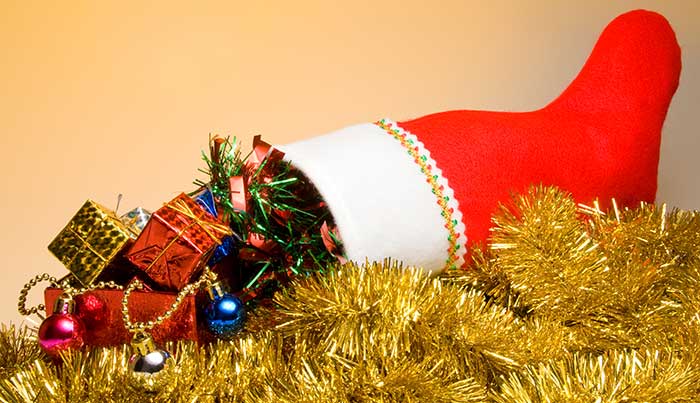 When the holidays roll around, shopping can get really hectic. Your gift list seems to always be growing, with family, friends, co-workers, neighbors, and more needed gifts. To stay in budget, sometimes you need affordable gifts that are still clever, fun, and useful. If you're shopping for someone you know likes to read and is never seen without a book or a Kindle in their bag, then this article is for you. We've rounded up 15 stocking stuffers for book lovers. They're all compact in size to fit easily in a stocking or gift bag, and they're all affordable too! Everything on this list is $15 or less.
Whether shopping for a Secret Santa gift for the administrative assistant you always see reading in the break room or trying to find the perfect gift for that picky aunt who reads five romance books a week, there is something on this list that will fit the bill. Check them out and delight the book lover in your life with one of these cool gifts.
15 Stocking Stuffers for Book Lovers
1. Open Book Silver Earrings
These are the earrings that any book nerd or librarian would love to wear. It's a pair of silver antique style earrings with charms in the shape of open books. These dangling earrings are affordable and cute. They also come in a gift box making them perfectly sized to slip into your loved one's stocking.
---
2. Book Lovers Never Go to Bed Alone Sign
This is a cute sign any reader will appreciate. Made from high-quality PVC with a rustic look, it says "Book Lovers Never Go to Bed Alone." Perfect to hang on any library or bedroom wall. At 10″ x 5″, this sign is still small enough to fit into most stockings, and also makes a great Secret Santa gift for a friend or co-worker.
---
3. i Clips Magnetic Book Marks
All voracious readers need a good bookmark. Really enthusiastic readers are often reading more than one book at a time and need more than one bookmark to keep track of what pages they're on. These cute magnetic bookmarks come in a set of 8. This design features punctuation marks, but there are plenty of sets available to delight any reader. The best thing about these page markers is they stay in place without damaging the pages.
Check out more fun and quirky bookmarks for readers.
---
4. Antiquarian Bookplates
Most readers have massive libraries in their home, with bookshelves filled with their favorite books. They also like to lend their books out to friend and family, so many people will personalize their books with bookplates so there's no question who these books belong to. This set of 55 bookplates are all in vintage and antique styles that used to be popular in yesteryear. This is a cute and practical gift if you're looking for stocking stuffers for book lovers.
---
5. Thumb Thing Reading Ring and Bookmark
This is a perfect gift for any reader who still loves paperback and hardback books, especially those who read while commuting on a train or bus. This plastic "ring" is worn on your thumb and automatically holds your book open for you, so you can easily hold a book with one hand and not worry about the pages flopping around. The set comes with three rings, which also double as a bookmark. Travelers and commuters will love this budget-friendly and practical stocking stuffer!
---
6. Book Lover's Reading Journal
Back before the days of Goodreads, people kept track of the books they read in notebooks (or in their head). This Book Lover's Journal is the perfect way for the reader in your life who refuses to switch to eBooks to track their reading offline. The pages let you fill out all the details on the latest book you've read, including notes and opinions. This is a thoughtful and useful gift that will fit perfectly in any reader's stocking.
---
7. Greatest First Lines of Literature Mug
If the book lover you're shopping for is also a lover of hot drinks, then this is the perfect gift for them. This coffee mug features the first lines from some of the greatest and most famous books in literatures. They will delight in identifying the books that go with each line. This mug is a jumbo 16 oz. cup that is dishwasher and microwave safe.
Include some of their favorite tea, coffee, or hot chocolate to make it a gift they'll really love and use right away.
---
8. Banned Books Zipper Pouch
This is a great gift for any gal or guy who loves to read. This cotton canvas couch features the titles of famous banned books, with some of them "censored" with black marks. This zipper pouch is made in the USA and is a generaly 9″ x 6″ size, perfect to toss in a purse, tote bag, or back pack. It's also great for writers or students who can use it as a pencil bag to store pens and such.
---
9. Cats on Books Socks
This is a great gift idea for any reader who also loves cats! These adorable novelty socks feature a variety of cats lying and sitting on stacks of books. Any cat owner who also loves to read knows these illustrations a very true to real life cat behavior. Socks make great stocking stuffers for book lovers, so pick up a pair of these affordable ones.
---
10. Clip-on Book Light
Every reader is guilty of staying up way past their bedtime reading. These cute book lights are perfect to keep them company as they're reading their books in the dark. These lights are great for book worms who share a bedroom with someone who likes to go to sleep early. They help illuminate the book so you can read without lighting up the whole room. They're also perfectly sized as a stocking stuffer.
Available in three colors: black, blue, or pink.
---
11. Book Lovers Scented Soy Candles
Book scented candles, perfumes, and essential oils have become popular gifts for book lovers. Nothing makes a reader more nostalgic than the scent of old books or a bookstore. Now you can give them those scents with these fantastic candles from Frostbeard Studio. Choose nostalgic scents like Book Store and Rainy Day Reads or literary scents like Harry Potter inspired Wizardy Buttery Drink and Narnia's Through the Wardrobe. The 4 oz. candles are perfectly sized for tucking in a Christmas stocking.
---
12. Book Soaps
Decorative soaps are more than just seashells! New Leaf Candle Co. makes these cool soaps shaped like hardcover books. These soaps are made to order so you can customize your set of two by selecting the color and the scent. They even have two literary themed scents: Book Nook and Old Library.
---
13. Bedside Book Storage Caddy
Sometimes a bedside table is not enough to hold all the books in progress. This bedside storage caddy is great for any reader or book lover. It has plenty of pockets to hold a book, Kindle, or iPad. There's also a slot for a tissue box, reading glasses, or your TV remote control. Any reader will appreciate the convenience of this bed caddy.
---
14. Book Lover Magnet Set
These are cute and fun magnets great for any refrigerator or the inside of a book worm's school locker Made by Etsy seller West Wild Wood, these unique magnets cannot be bought it stores. They have a modern design with phrases like "Keep Calm and Read On" or "Got Books?" Comes with 9 handmade 1″ magnets–or order them as pinback buttons. This is a great gift option if you're looking for stocking stuffers for book lovers.
---
15. Vintage Library Checkout Card Bookmarks
This perfectly sized stocking stuffer for book lovers is absolutely unique. Each bookmark is made from an actual vintage library checkout card, complete with signatures and due dates. It brings back the nostalgia from elementary school libraries. Each card is laminated and can come with or without a tassel.
---
Still on the hunt for some affordable Christmas gifts and birthday presents? Check out stocking stuffers for writers and cozy stocking stuffers.
Want to see fun and creative gifts for writers and book lovers? Try our megalists of gifts for writers and gifts for readers.