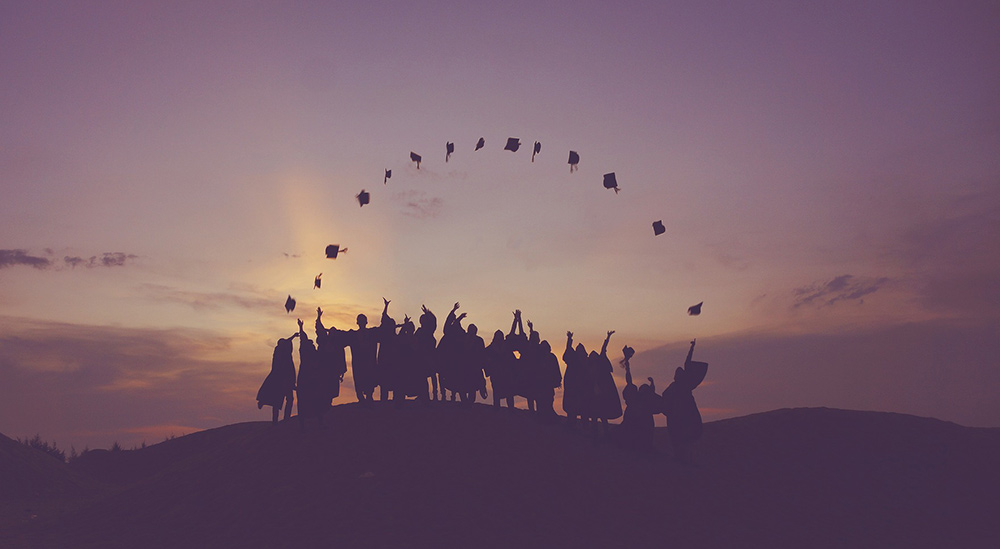 Graduating from college is a huge accomplishment. The big difference between college graduation and high school graduation is once the student emerges from their bachelor's program their future is a little more unclear. Maybe they're continuing in academia to pursue an advanced degree. Maybe they have a new job lined up. Maybe they have big plans to move to a new city and start a new career. No matter what their next steps are, your college graduate is in the middle of their transition to adulthood. The 20s are a time when they will question their identity, learn to let go of their childhood, and figure out the shape of their life. For some grads, this is easy. For others, it may be a bit tricky. That's where this article comes in. If you're looking for a gift to mark the occasion, check out these books for college graduates.
These books range from creative and beautiful book gifts to practical guides that will help your graduate transition into adulthood. They give advice and info on careers, living on your own, and important skills like cooking, cleaning and taking care of yourself. Check out our recommendations below. These make great gifts on graduation day or even to give your kid when they're finally moving out of your house. If you're looking for more sentimental book gifts, check out these unforgettable gifts for high school graduates.
Books for College Graduates
101 Secrets For Your Twenties
The twenties are a big time of change for most young adults. It's the point where you leave the safety of college and go out into the "real world." Often they're working a full-time job for the first time, living on their own, and even doing their own laundry. And for a 20-something, making all this work can be a bit perplexing. This fun book by Paul Angone is full of easy to read "secrets" that demystify this period of life. Each secret has a page or two of explanation to help inspire, motivate, and even cheer you up. An example: secret number 11 is "Lousy jobs are the twentysomething rite of passage."
This book makes a great gift for new college graduates because it's easy to read and very approachable while giving humorous and meaningful advice. This makes a great gift from a parent, grandparent, aunt or uncle, or even an older sibling. This is the kind of book your graduate will go back to again and again for advice and encouragement.
---
Life Skills 101: A Practical Guide to Leaving Home and Living on Your Own
If your college graduate is about to venture away from home for the first time in their life, this is the book for them. Life Skills 1010 is filled with the practical knowledge every 20 something needs to know in their transition to adulthood. To covers topics like working, renting, dealing with roommates, finances, cooking and meal planning, time management, social skills, and even organizational techniques. This is the crash course in adulthood that every school should offer and no kid wants to hear from their parents. Instead of nagging them with your advice, give them this book instead.
The sixth edition of this book by Tina Pestalozzi is updated with the latest advice on finances, searching for jobs, and navigating the modern social world. This book makes a great graduation gift or you can tuck it into your child's boxes as they pack up to move out.
---
The Pathfinder
When looking for books for college graduates, often career focused books are recommended. As the new grad embarks on the beginning of their professional career they may be filled with doubts, frustration, or even worry. This tool is a literal guide to finding the perfect career that's guaranteed to give you the most happiness and success. It's based on techniques developed by the Rockport Institute and includes 100 self tests to help choose the perfect career path.
This book is a great gift for college graduates who aren't sure what to do with their art or philosophy degree or those with flexible degrees that could be applied to multiple career paths. Giving this book is like giving the gift of a personalized career counselor.
---
F*ck! I'm in My Twenties
This is a fun book that adds a little levity to the stress of graduating college and moving onto adult life. Taken from the most popular posts of her blog along with new essays, author Emma Koenig talks first hand about her experiences as a 20-something trying to figure out how to be an adult. Her writing style is accessible and humorous, which makes this a good book for college grads who don't like to read and just roll their eyes at books of tips on how to be an adult. The book also features Koenig's handdrawn illustrations, checklists, and more in her iconic style.
This quirky book makes a great gift for graduation day or to celebrate any of those birthdays during the 20s. Add a meaningful book inscription to make it a keepsake treasured for years to come.
---
Whatever You Are, Be a Good One
If you're not looking to give a book of practical advice, but rather one of encouragement and inspiration, check this book out. This beautiful quote book by Lisa Congdon is filled with colorful, hand lettered pages of 100 quotes by well known figures like Joan of Arc, Oscar Wilde, Harriet Tubman, and Stephen King. Each page is like a mini work of art of motivation and creativity.
This quote book makes a great gift for creative types on their college graduation day. It's also a good book for those 20-somethings who already live on their own and don't need more practical guides to adulthood. Instead, this book makes a meaningful gift to celebrate their accomplishments and inspire them to move forward into a successful life. Don't forget to add a personal book inscription to turn this into a precious keepsake of this accomplishment.
---
The Useful Book: 201 Life Skills They Used to Teach in Home Ec and Shop
A lot of college graduates are ready to enter the real world: they have their first job lined up, a nice new apartment, and a 5 year plan for career and finance. But then they realize they don't know how to find a stud in the wall or sew on a button. These are skills that used to be taught in classes like home economics and shop but are often missing from the class schedule of millennials. The Useful Book helps bridge that knowledge gap for new graduates. Called "the encyclopedia of DIY," this book is filled with useful charts, lists, and even step-by-step instructions with illustrations.
This will become your graduate's go-to guide when they're wondering how to boil an egg, fold a fitted sheet, or even patch linoleum. There are even more advanced guides like how to make maki or build a bird house. No matter their skill level, your graduate has a lot to learn from this book in their transition to self-sufficient adult.
---
Get a Financial Life: Personal Finance In Your Twenties and Thirties
The transition to working a full-time job and managing a personal budget can be a challenge for some 20 somethings. Responsibilities like rent, car payments, utilities, groceries may be a struggle to handle while also enjoying some fun stuff and figuring out how to save for retirement. Some people make the transition easily (maybe even during or before college), but for other college graduates, it's a whole new world. Get a Financial Life is a fantastic book for college graduates on personal finance. Written by Beth Kobliner, a personal finance guru who focuses on education young people on managing money, this book is a great introduction for young adults. Written in an approachable and easily understandable way, the book explains the initially perplexing topics of health insurance, retirement accounts (like 401ks and IRAs), credit cards, personal banking account, investing, and more.
This book is a like a crash course for any 20 something to give them good financial footing for personal success. In addition to teaching the basics, the book also helps with getting out of debt (including paying off pesky student loans), saving for a down payment on a house, or even affording grad school. This a great gift for graduation day to give your child all the info they need. You may even learn something from reading the book, too.
---
My Boyfriend Barfed in My Handbag…and Other Things You Can't Ask Martha
If you're looking for a humorous book for college graduates who tend to be a on the messy side of the spectrum, check this out. My Boyfriend Barfed in My Handbag by Jolie Kerr is a practical guide to the messes of the lives of modern 20-somethings. She brings her cleaning knowledge (usually displayed in her column "Ask a Clean Person") to impart basic tidying skills like mopping or more complicated scenarios like cleaning up a ginger beer that exploded in your kitchen.
This is a fun gift–and a gentle nudge–for any sloppy graduate. They will enjoy Kerr's approachable writing style and her wise (and relatable) cleaning advice.
---
The Millionaire Next Door
If your graduate already has their personal finances in order, a career in mind, and a strong 5 (or 10, or 20) year plan, then they're ready for the next level advice. The Millionaire Next Door by Thomas J. Stanley and William D. Danko, who have spent over 20 years interviewing millionaires and analyzing data to figure out the secret behind their success. The results are actually surprising and not necessarily what most people would assume is behind most millionaire's success.
This book makes a great gift for entrepreneurial minded college grads that want to build their own business, retire early, or just be financially independent. Through real life examples of regular millionaires (no celebrities or lottery winners), this book gives all the info you need to follow their path to success and financial freedom.
---
The Last Lecture
If you're looking for more sentimental book gift that still imparts important wisdom, consider The Last Lecture. This book for college graduates is actually taken from the last lecture by Randy Pausch, a professor at Carnegie Mellon who was diagnosed with terminal cancer shortly before the lecture. What results is a beautiful and inspiring book about overcoming obstacles and seizing your dreams. His text is filled with humor and intelligence that any one can relate to at any age.
This is a great gift for college graduates who are unsure of their next steps or already facing obstacles towards achieving their dreams. It also makes a great gift to inspire any graduate. Adding a personalized book inscription will turn this unforgettable book into a lifelong keepsake they will turn to during moments of struggle and doubt.
---
Save on Pinterest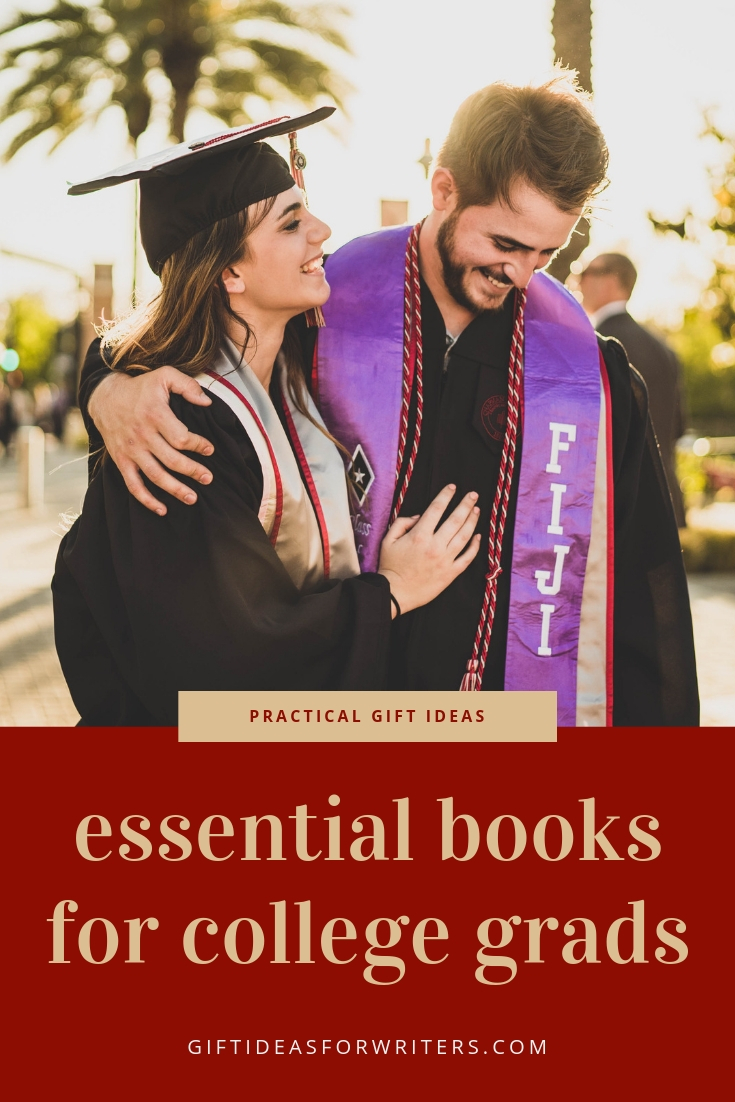 Still looking for books for college graduates. Check out these 10 unforgettable books for high school graduates, some are great for any type of graduate.