Books make wonderful gifts, not only for avid readers and writers but also other people in your life. The right book for the right occasion can create a lasting and memorable gift that will be cherished for years to come. Events like graduation, milestone birthdays, or the "birth of a baby are a great time to give a book as a gift. To make the gift even more personal, you should consider adding an inscription to the book.
Inscribing a book for a gift adds a special touch that creates an emotional connection to a book and turns it into a keepsake rather than just another book on the shelf. But often people wonder what to write in a book? What can you inscribe in a book to make the gift meaningful and treasured? We'll take you through all the steps including how to inscribe a book and where to write your message in the book, along with some book inscription ideas.
Why write an inscription in a book gift?
A personalized inscription in a book takes what could be a generic and easily forgotten gift and turns it into a meaningful keepsake. That book then has a memory attached to it that the receiver will recall every time they look at the book and reread the inscription. Think of it as a way to turn any book into a time capsule of a special moment or event in their life. That's why giving a book with a handwritten inscription inside is a perfect gift for milestone events like graduation or marriage.
Book inscriptions are also a way to connect personally with the book receiver. You can use it to share why you gave them the book, especially if it's a book you love or have a personal attachment to.
While you can write a note or inscription in any book, there may be certain types of books and gifts you shouldn't inscribe. These may include:
College textbooks or reference books
Gifts for readers who like to keep their books in mint condition
Rare or valuable collectors books that are worth a lot of money
Books the receiver may want to return or exchange (eg. you're not sure if they already own it)
Blank journals
Ultimately the decision is up to you. Adding a book inscription can really make a gift extra special.
How to Write a Book Inscription
Deciding what to write in a book for a gift
You've decided to add a personal note to your book gift but now you wonder how to inscribe a book?
What do you want your inscription to be about?
The first step is to decide what you want to say with your inscription. You should start by thinking about what kind of message you'd like to convey. Do you want it to be thoughtful? Funny? Do you want to make it a memory about a specific event? Do you want to impart some wisdom or advice?
Do a little brainstorming, you can even come up with a few different ideas.
Practice crafting your message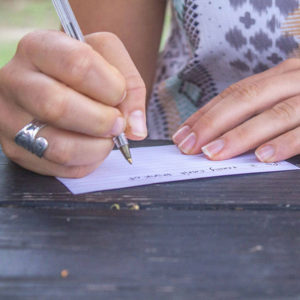 Get a scrap piece of paper and grab a pen. Try writing down a few different messages until you get the exact wording that you want. Make sure it conveys the memories, ideas, and feelings you brainstormed in the first step.
To really create a special gift, make sure the note is meaningful and personal. If it's appropriate, try including inside jokes or using a nickname.
If you're giving the book for a special event like a milestone birthday or a graduation, include advice for them as they embark on their next stage of life. Make sure to wish them luck.
If the book you're gifting is one you've read before, make sure to include in the note why it's so special to you or why you're recommending it.
Make sure to craft your message to the book. If it's a book about penguins, mention how the person or child is like your "little penguin."
Feel free to use a dictionary to check your spelling.
Deciding Where to Inscribe a Book
Generally, you want to inscribe the book somewhere near the front. Depending on how the book is laid out may determine the best place to write. Look for a page where there is very little writing or a black page.
You can write your note on:
the inside front cover
the blank page before the title page
the title page
If you'd like to write an inscription in a book, but you don't want to write on the book itself there is a "cheat." Find a nice piece of stationary the same size or smaller than the book and write your note on it. Tuck it inside the front cover of the book when you're done writing it.
Writing the inscription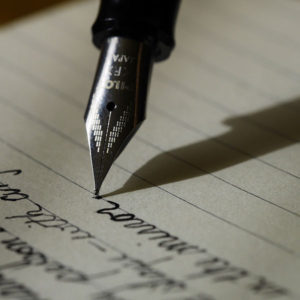 Once you've decided what to inscribe in a book gift and where to write it, it's time to put pen to paper!
Find a nice pen that writes in a crisp ink of any color. Don't use a marker that may bleed through the pages or a pencil that could smear or fade over time. Test the pen on your scrap paper to make sure it's working.
Address the inscription to the person who will receive the book. Use a nickname or pet name if it's appropriate.
Write your special note.
Then sign your name or nickname.
Don't forget to add the date! This can be done at the top of the inscription or next to your signature. If the book is meant to mark a special date (wedding, birthday, graduation, etc.) include the full date. For other situations, you could simply write the year or something like "Christmas 2016."
Sample Book Inscriptions
Still feeling stuck on what to write in your book gift? Check out these examples to help give you some book inscription ideas:
Inscriptions for Baby Book Gifts
For future adventures,
future laughs, future tears,
and a future full of dreams come true.
To my little bunny,
welcome to the world.
Little One,
There are big things in your future.
Check out these original baby shower book gifts.
Graduation Book Gift Inscriptions
Congratulations!
This is the first big success
in a lifetime sure to be filled
with hundreds more!
Be proud today as we celebrate
your accomplishments from the last 4 years.
Know there are more challenges ahead,
but that means there will be more celebrations too!
I've watched you grow and learn,
from ABCs to a + b = c.
I'm so proud of you.
Congratulations on your graduation!
Check out these ideas for unforgettable books for high school graduates and essential books for college graduates.
Cookbook Inscription Ideas
I've already marked all of the delicious cakes
you should bake me for my future birthdays.
So you can finally learn how
to cook something that doesn't go
in the microwave.
Here are some ideas for tasty
treats you can make.
Don't forget to share!
Milestone 21st Birthday Book Inscription Idea
Remember these wild and youthful years.
They go by so fast! (And the best way to remember
them is to never get blackout drunk)
Love, Mom
I wish I'd read this book when
I was your age. Make mistakes,
but nothing like what happens in chapter 12!
This book at cocktail recipes
will ensure you're never the one
at the party drinking Bud Light.
Give your book gift
Once you've written your inscription, the gift is ready to go. Wrap it or put it in a gift bag and give it to the recipient when the time is right. The inscription will add meaning and personalize the book you're giving. The recipient will always remember that special time when they read your thoughtful message inside.
---
Want to buy the perfect gift, but don't know what books to get? Check out our recommendations for unforgettable books for high school graduates and thoughtful baby shower book gifts. We even have a few book recommendations for fans of the Broadway musical Hamilton.
If you're shopping for a writer, check out these inspirational book gifts for writers, essential reference books for writers, and the best books on writing fiction.
Don't forget to get a unique bookmark to go with your book gift.