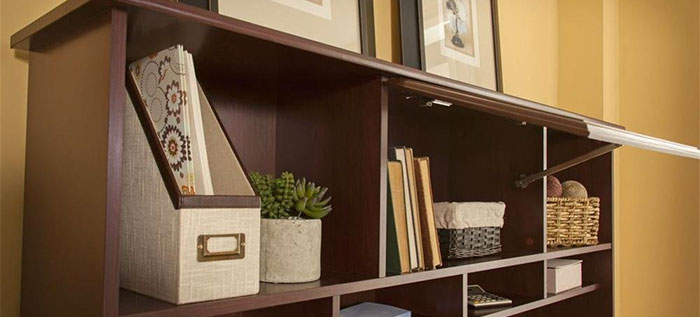 Writers typically own a lot of books, including books they want to keep close at hand while they're writing like reference books and books on writing craft. Some writers just like to keep their favorite books nearby for inspiration or motivation. No matter the need, corner desks with a hutch fit cozily into any office or bedroom and provide lots of storage space.
We've rounded up some of the best corner desks with hutch available, with a variety of sizes and prices. They also feature different styles so you're sure to find one that matches the decor of your space. When you're shopping for a writing desk, you should keep in mind not only price and the look of the desk but also the amount of storage offered. If you spend a lot of time typing on a keyboard, you may want to look for a desk with a keyboard tray to allow for ergonomic posture. Keep all these things in mind as you check out our recommendations.
Corner Desks with Hutch
Cabot Collection Corner L-Desk with Hutch
If you have the space and need lots of storage, this L-desk from Cabot Collection is a fantastic option for any writer. The desk provides plenty of workspace, with room to spread out all your index cards as you outline your writer. There's also plenty of space for a PC, laptop, typewriter, notebook, or all of the above.
As far as storage goes, the desk features two drawers, including a file drawer that fits letter and legal-sized files. There's also a storage cabinet to keep all your office essentials organized. The hutch has plenty of shelves to store books, manuscript pages, and all your writing toys. (Need even more storage? Check out the matching bookcase.)
To add further convenience, the desk comes with a USB hub that allows you to easily connect 4 devices to your computer through a single connection. There's also a charging station for your smartphone, camera, and other electronic devices.
Colors Available: espresso oak, harvest cherry, heather gray
Dimensions: Desk measures 59 1/2″ W x 59 1/2″ D x 30 1/4″ Hutch measures 59 1/2″ W x 11 3/8″ D x 36 1/4″
---
Monarch Specialties Corner Desk with Shelves
If you're looking for more of a bookcase with some space to work on your laptop, this desk is perfect. This corner desk has a contemporary design, but is on the smaller side, so keep that in mind if you're a taller or larger person. The desktop can easily fit a monitor or a laptop computer (a PC tower would need to be stored on one of the shelves). The pull out keyboard tray makes an ergonomic workstation for any writer.
The desk is flexible: it can be positioned as a left corner or right corner to fit any room layout in your home or office. The bookcase hutch includes plenty of shelves for storing books, displaying pictures, and staying organized. This is a smaller hutch-style desk, so it will fit perfectly in the corner of a bedroom or living room.
Colors Available: brown reclaimed wood, cappuccino, white
Dimensions: Desk: 36″L x 20″W x 30″H Storage Shelf:38″L x 14″W x 60″H
---
Corner L Shaped Office Desk with Hutch
If you only need a small amount of storage and are more concerned about having a corner desk with lots of work space, you should see this desk from Mainstays. The desk design is perfect for any office or home. It features a storage hutch with a cabinet. The l-shaped desk has plenty of workspace for your computer or laptop and also room to spread out with a pen and paper.
If you want to make sure your desk is ergonomic, this one has you covered with a pull-out keyboard tray. The storage cubbies and flattop hutch have space for books, knick-knacks, or displaying photos. This is a great corner desk with a hutch for an office or another space in your home.
Colors Available: black and cherry
Dimensions: 49.12 Length x 47.06 Width x 60.125 Height
---
TMS Morgan Corner Desk with Hutch
This small writing desk with hutch fits perfectly in the corner of any bedroom, living room, or small office. While you'll have to sacrifice a little desktop space for this compact desk, you don't have to give up any storage! In addition to plenty of shelves on the hutch, under the desk is a CPU shelf for your computer tower and a small storage shelf perfect for CDs, DVDs, or books.
With the pull-out keyboard tray and CPU shelf, there's plenty of room for a computer and monitor or just a laptop. The desk is made of composition board with a melamine finish, meaning it's affordable and sturdy. Some assembly is required.
Colors Available: black oak finish
Dimensions: 35.5 x 35.5 x 61 inches
---
HomCom Arch Tower Corner Computer Desk with Hutch
If you want a very compact corner desk with a modern design, check out this desk from HomCom. Combining wood and metal, the modern look is sleek and efficient. It features shelves for a PC tower or printer, in addition to storage shelves on the hutch above the desk.
The keyboard tray also makes this desk ergonomic This desk is very affordable and great for anyone on a budget. Because of its small size, it works well for teens and college students. It's also easy to clean with a damp cloth–easily remove coffee mug rings or spills.
Colors Available: beech, walnut
Dimensions: 44.5″L x 25.6″D x 62.2″H
---
Still haven't found the perfect desk for the writer in your life or for your own office? If you need storage, check out these white desks with drawers. If you're dealing with a small space or need a desk for a bedroom, check out these writing desks for small spaces.