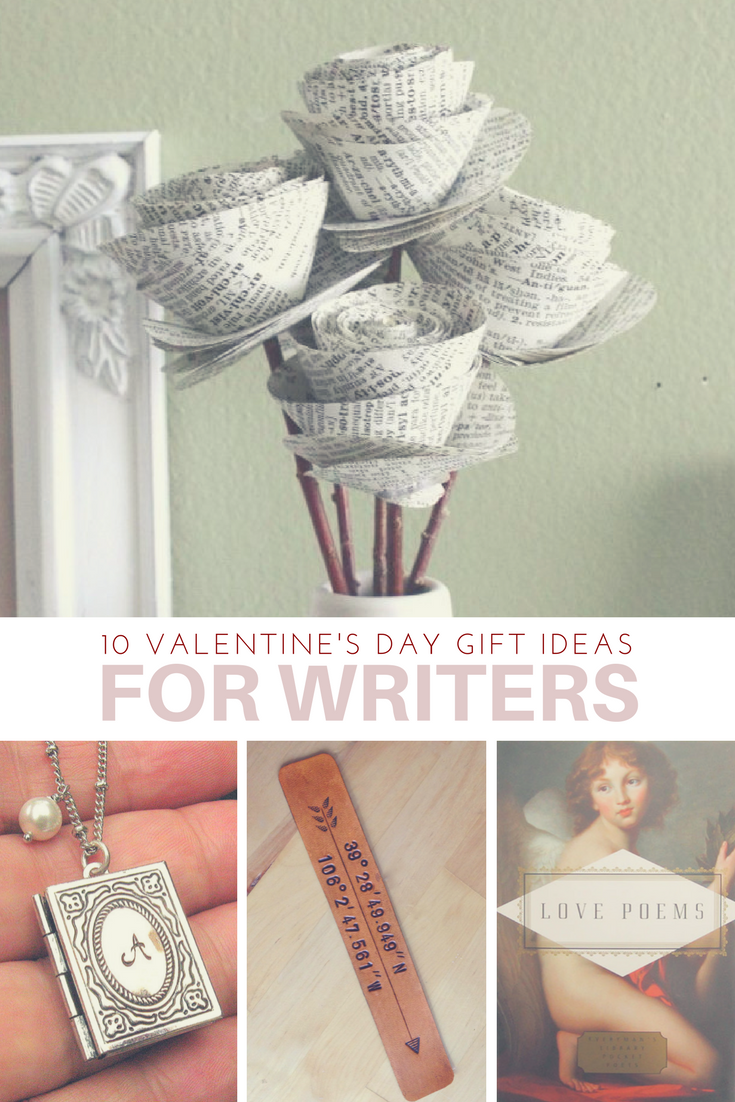 Valentine's Day–a holiday either loved and celebrated or dreaded and hated depending on who you ask. Often the people dreading V-day aren't just singles, but people panicking over what gift to buy their one and only to commemorate their love. You need something thoughtful, romantic, and not just the usual box of chocolate and flowers. Whether shopping for a man or a woman, you could still feel a little stumped coming up with the perfect gift. Well, if you're beloved is a writer or an aspiring author, don't worry. We've got you covered with plenty of gift ideas ranging from the romantic to the unique to the perfectly personalized. Check out our list of the best Valentine's Day gifts for writers and you're sure to find the best gift for your significant other.
10 Valentine's Day Gifts for Writers
1. Book Locket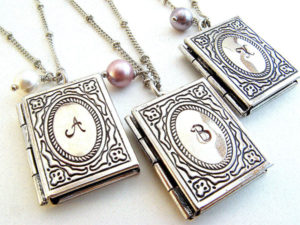 When we think of Valentine's Day gifts for writers, one of the first things that always comes to mind is jewelry. You don't need cliche diamond and gold jewelry to take away the breath of an author. Lockets have traditionally been given as gifts between lovers to house a picture or special note kept close to their heart. In recent years, book lockets have become extremely popular especially for book lovers and writers. There are many beautiful styles available on Etsy, but here's one of our favorites.
These silver-plated book lockets are made to order and fully customizable for your love. You can customize it with your Valentine's initial and your choice of Swarovski pearl colors (including birthstones). Inside features two frames to insert your photos. This is a unique gift your special someone will cherish.
---
2. Old Book Scented Soy Candle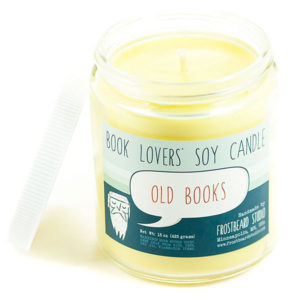 Candles create a romantic and relaxing mood anywhere. But nothing gets a writer going better than the nostalgic scent of old books. Frostbeard Studios makes a whole line of soy candles targeted at writers and book lovers in a variety of scents. If you really want to get fancy or turn up the heat for Valentine's Day, they also sell candles called "Trashy Romance Novel" and "Sexy Librarian." They also features candles with scents crafted to match fictional characters and locations like Gatsby's mansion or Hatter's Tea Party. Browse their stores on Etsy or Amazon to pick out the perfect candle for your love.
---
3. Laptop Bed Tray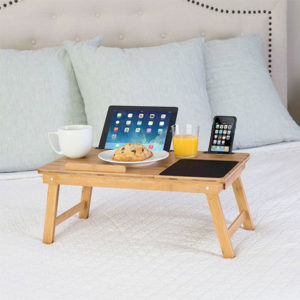 Men and women alike love to be spoiled with breakfast in bed. Make your writer's day even better by serving them breakfast on their new gift: a laptop bed tray. Once they've enjoyed the delicious meal you've prepared, let them know they can spend the rest of the day in bed working on their novel or short story.
This bed tray is perfect for any type of writer: those who write by hand, on a laptop, or using a tablet. It features an adjustable top to customize the best writing angle and a storage drawer to keep pens or index cards close at hand. It also has foldable legs for easy storage when they're done working for the day. Available in Walnut or Natural finish.
---
4. Literary Book Chocolates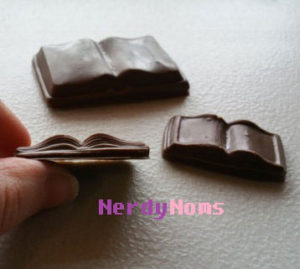 There are some Valentine's Day traditions that I think should never be ignored–chocolates are at the top of that list! But if you want to give something special to your beloved writer, one of those pink and red cardboard hearts just won't do. Instead, get them something unforgettable and delicious. These delicate book chocolates are handmade to order by Nerdy Noms from 3 oz. of chocolate in your choice of 11 different flavors. The default order includes 6, but since they are made to order Nerdy Noms gives discounts on bulk orders and you could easily mix and match flavors to create the same fun you experience with a box of chocolates. Yum!
---
5. Book Bath Caddy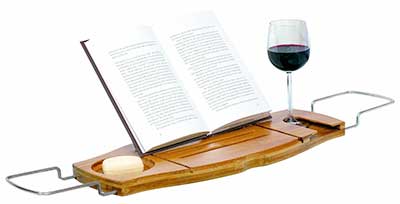 When you're considering Valentine's Day gifts for writers, don't forget that writers are readers too! This is a fantastic gift for any writer who loves to soak in a nice warm bubble bath at the end of the day and enjoy a good book (and maybe even a glass of wine!). Include some of their favorite bubble bath or bath bombs with the gift, and they will absolutely love it. Made from bamboo, this bathtub caddy is available in a natural or walnut finish.
---
6. Personalized Stationary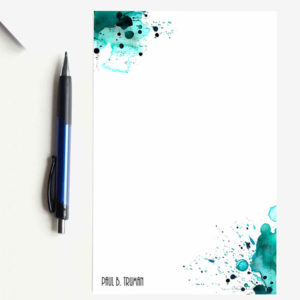 I bet this isn't something you'd think of when considering Valentine's Day gifts for writers. Postal Mail feels like a thing of the past, currentlty cluttered with spam and bills. Rarely to people send coresspondence through the mail. But writer's can be a little be different. They appreciate the beauty of a handwritten letter or note and also appreciate a great pen and nice paper. A set of personalized stationary will be appreciated by any writer. These watercolor sets by OohLaLa Letters are not only beautiful, but totally unique in their beautiful watercolor patterns and the customization of your love's name.
---
7. DIY Writer's Valentine's Day Gift Basket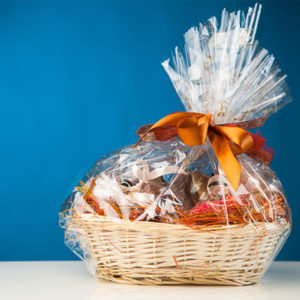 If you're willing to put some extra work into your gift, you can create something that will Win Valentine's Day forever. A gift basket (or bag or box) is one large gift assembled by gathering smaller gifts, all specially selected to make the ultimate personal gift for your special someone. We have an entire article with the steps to make your own gift basket for writers that you can check out to give you ideas.
For a V-day specific gift basket, make sure to include some elements traditional to the holiday. A nice Valentine card with a special note adds a romantic touch, plus flowers or chocolates can also be a good tribute to tradition. Overall, you just want to focus on picking elements your partner will love and appreciate that help support their writing habit and their creative projects.
---
8. Paper Roses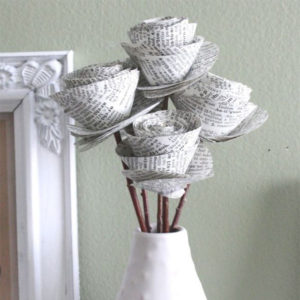 A dozen red roses is the classic gift to give on V-day, but the price is always marked up in advance of the holiday and real roses always die. Instead, when you're looking for Valentine's Day gifts for writers, you should consider paper roses instead. These beautiful paper flowers are handcrafted from recycled dictionary pages and they last forever. Gift them in a decorative vace and your favorite writer will love to keep them on display all year long.
This seller also offers roses made from Disneyland maps, music sheets, children's books, and old books. Check them out in the My Cotton branch Etsy store to pick out the perfect bouquet for your Valentine.
---
9. Coordinates Bookmark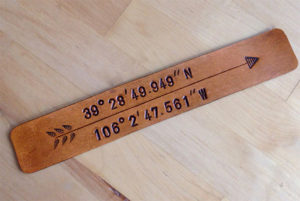 Bookmarks are a must have for any writer since they read so many books. However, you can't just give ANY bookmark on Valentine's Day. It needs to be something special that commemorates your relationship and your love. This handmade leather bookmark from LoveThatLeather is perfect. You can custom order it to have the coordinates of any location embossed into the leather.
This is a great way to commemorate the place you met, the location of your first date, where you were married, or any other location that is special to you as a couple.
---
10. Love Poems Collection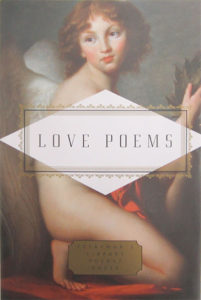 If you are a writer yourself, there is no gift more meaningful than writing your beloved a romantic love poem. Even if you're not a writer, your Valentine will appreciate any creative expression of your love. But if you're not so creatively inclined, this collection of love poems would make a great gift as well. This collection has a breadth of romantic poetry, from ancient China to modern poets.
To make this gift even more meaningful, read through it and bookmark (maybe even with the coordinates bookmark above) the poem that reminds you most of your partner and your love. They will appreciate the beautiful words and the meaning of your gift.
---
Need more ideas for Valentine's Day gifts for writers? Check out these
V-day gifts for readers
and
romantic gifts for gardeners
. Want to see fun and creative gifts for writers and book lovers? Try our megalists of
gifts for writers
and
gifts for readers
.