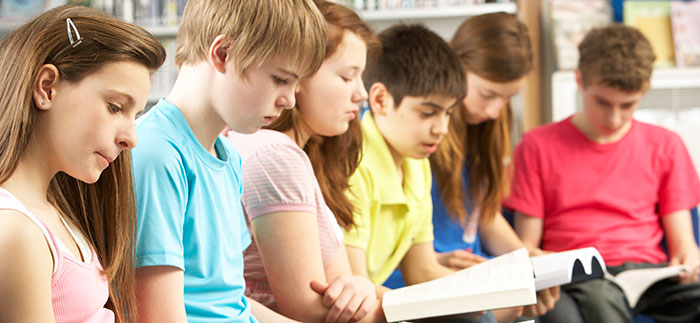 A love of reading is important to encourage at any age, but especially when kids grow into teenagers. Those early teen years are a whirlwind of new experiences and also new gadgets that can distract from reading. Eighth graders, usually ages 13 and 14 years old in the United States, have tons of fun and interesting books that are great for their reading level. A lot of teens at this age are ready to read books written for adult audiences, but many will be more interest in young adult and teen-focused books. For this article, we're recommending some of the best books for 8th graders in a variety of genres. These books are perfect for Christmas presents or Birthday gifts and are a fantastic way to keep your teen reading.
Classic Books for 8th Graders
I Know Why the Caged Bird Sings
This classic book by Maya Angelou is often found on required reading lists, but many students leave school without the opportunity to read this book. This memoir is actually the first in five volumes of her auto-biography and covers the years of her youth, perfect for 8th graders to relate to. It follows her life as she lives with her grandmother in Arkansas as a child and later lives in California where is her life is changed by an unplanned pregnancy.
Angelou's unfiltered memoir not only gives readers insight into the early years of her life that helped shape her into the poet she is today but also reveals many realities of African American life in the United States. Her story is one filled with tragedy and triumphs that can inspire and inform young teenage readers.
---
To Kill a Mockingbird
This is another book that is commonly challenged in classrooms, but is essential for young readers. This Pulitzer Prize winning novel by Harper Lee tells the story of a young girl coming of age in the Deep South during the Great Depression as her father defends a black man on trial for the rape of a white woman. The novel is often praised for its handling of serious issues like racial inequality and rape, especially for presenting them in a way that is appropriate for young teen readers.
Based on some of her own experiences growing up as a 10-year-old in Alabama, Lee captures the prejudices and inequality of the time through a story that helps educate readers about these issues. It also covers themes like courage, compassion, class, and gender roles in a coming of age story that 8th-grade readers can relate to. If your child won't be reading To Kill a Mockingbird in school, this is a great book to give as a gift or use for summer reading.
---
Of Mice and Men
Another classic to consider when searching for books for 8th graders, is this novel by John Steinbeck. While he's most well known for The Grapes of Wrath, this novel is shorter and easier to keep the attention of 13 and 14 year olds. It's also common in 8th grade classrooms and like the previous two books, often challenged and banned as well.
Based on John Steinbeck's experiences working with migrant farm workers, Of Mice and Men follows two workers in California: George an intelligent man who dreams of owning his own land someday and Lennie a strong, mentally disabled man. The novel covers themes like dreams, loneliness and relationships, powerlessness, oppression and abuse, and fate. It also provides insight into the Great Depression and lives of migrant workers.
---
The Outsiders
SE Hinton is an author who transformed the YA genre with her gritty, darker stories of teens. The Outsiders is the most well known of her books and is often assigned reading in middle school classrooms. This book is of significant interest to teens because Hinton was a teen herself when she wrote it and the book was published when she was 18. While this book is great for any 8th grade readers, it's especially good for boys who aren't into reading or feel like they can't relate to YA stories.
This coming-of-age story follows several teen boys who are in two rival gangs, one rich and one poor. The novel touches on themes of social class, honor, relationships, and coming of age. It also deals with violence, friendships, romantic relationships, and other issues relevant to young teens. This is another book that is often challenged and kept out of the classroom, but we highly recommend it for 8th grade and high school readers.
---
And Then There Were None
If you're looking for a book that isn't surrounded by controversy and is a little more fun to read, this classic mystery by Agatha Christie is a great choice. Many readers praise this as one of the best mysteries ever written and it's a great introduction to the mystery genre for young teens. The premise is ten strangers are invited to an island under false pretenses. In addition to two servants, these guests are accused of murder and left alone, trapped on the island to pay for their crimes. They then start to die one by one.
If you're looking for mystery books for 8th graders to read, And Then There Were None is an excellent choice. If your child enjoys this, it may open the door for them to read other Agatha Christie mysteries or YA mysteries.
---
Scifi & Fantasy Books for 8th Graders
Numbers
If you're looking to get your 8th grader hooked on reading, one of the best ways to do that is to introduce them to a page turny series. Luckily, there are lots of science fiction and fantasy series written for 13 and 14 year olds. This book by Rachel Ward is the first in a series of science fiction psycho-thrillers with a touch of romance.
The main character is a 15-year-old girl named Jem who has the strange gift where she can see the date when a person is going to die when they make eye contact with her. That's enough to make any person's life complicated, but Jem is an orphan in foster care who doesn't form close relationships until she meets Spider. Then everything gets out of control when she realizes he's going to die in a couple of days and there will be a terrorist attack at the London Eye. This fast-paced thriller is fun and engaging for any 8th grader to read.
---
Sabriel
If your child is more interested in fantasy, they need to check out this trilogy by Garth Nix. This classic fantasy is an age appropriate alternative to Game of Thrones with a little extra magic thrown in. The story is about a young woman named Sabriel who has always lived away from the Old Kingdom and the Free Magic used within. That all changes when her father goes missing and she must adventure with two magical beings into the Old Kingdom and soon discovers her own destiny.
This trilogy is great for fantasy fans and as a female-led alternative to Harry Potter. While it's often targeted at young women, it's a classic story that readers of either gender can enjoy.
---
Cinder
This is the first book in the The Lunar Chronicles Series, by New York Times Best Selling author Marissa Meyer, and it's another fantastic choice if you're trying to get your 8th grader into reading. This sci-fi retelling of the classic Cinderella tale features a main character who is a cyborg and a mechanic who finds herself at the center of an intergalactic struggle when she meets Prince Kai. Suddenly the fate of Earth hinges on Cinder as she uncovers the secrets of her past.
This YA book appeals to fans of YA romance, fairy tales, and science fiction, with a perfect blend of the genres that is an addictive page-turner. This is a great option if you're looking for books for an 8th-grade reading level.
---
Maze Runner
Well known because of the blockbuster movie series, The Maze Runner started as a best selling YA book series by James Dashner. While it's often compared to The Hunger Games and Divergent, the series offers a new twist on teen battling for their lives. Thomas wakes up in the Glade with no memory of what came before. The Glade is inhabited by other teen boys, all arrived the same way coming up a metal elevator with no memory. They're surrounded by stone walls that make up the ever changing maze surrounding The Glade. That's their only exit and no one has made it through alive. Then a girl arrives with a message and they realize their only option is to go through the maze.
The Maze Runner series is great for 8th-grade girls or boys, but boys who may be turned off by the romance elements in other YA sci-fi books will appreciate this series which focuses more on other story elements. The series is full of dystopian settings and the story evolves and deepens with each new book as the answers to mysteries are revealed.
---
History & Historical Fiction for 8th Graders
The Diary of a Young Girl
This is another book that is often assigned in schools, but if it's not a part of your child's curriculum you should get them a copy. Anne Frank was just like any other 13 year old girl, until her family had to go into hiding because the Nazis were taking Jews to concetration camps during World War II. During her time in hiding, Anne kept a journal of her day-to-day life, dreaming of being able to go outside and wishing she could be a writer. Unfortunately her family was discovered and most of them perished in concentration camps, including young Anne.
When her father returned to Amsterdam after the war, he discovered his daughter's diary and had it published in 1947. In addition to being a beautiful memorial to his daughter, the diary is a candid window into the lives of a family in hiding from persecution. 8th-grade readers will easily relate to Anne's vivid voice and the universal coming of age experiences she had during those years. This is a great way to help young readers connect personally with the tragedy intolerance and war causes for innocent civilians like the Frank family.
---
The Port Chicago 50
All of history books for 8th graders focus on events well trodden in history textbooks, but this one by Steve Sheinkin covers a story most middle schoolers (and even adults!) aren't familiar with. In 1944 an explosion at Port Chicago, California killed more than 300 sailors. As a result, 244 men refused to return to work, protesting the unsafe conditions. When it was over, fifty of the men faced charges of mutiny.
This book covers all of the events, presented in an easy to read narrative. It highlights an important event in military history while also taking a nuanced look at civil rights and the treatment of black men and women in our armed forces during World War II. If your 8th grader enjoys this book, they may also want to read Bomb by the same author.
---
A Night Divided
Twelve year old Gerta wakes up one morning in 1961 to discover the Berlin Wall has been built over night, not only dividing the city, but her family as well. While she, her mother, and one of her brothers is stuck on the eastern side of the wall (controlled by the Soviets), her father and other brother are on the western side of the wall, where he had been searching for work. Soon Greta and her family realize they're prisoners in their own city and her father wants her and her brother to tunnel under the wall and join him on the other side.
This fast-paced story provides an entertaining read for any young reader, while also giving an insight into the real-life experience of this historic time period in Germany. This book is a great choice for readers who aren't interested in reading about history, as the fictional story will sweep them up in the experience and doesn't feel anything like a textbook.
---
Wolf by Wolf
This book by Ryan Graudin is a genre blender, combining World War II alternative history with the thrill of a spy novel, the magic of speculative fiction, and the relatability of a coming of age story. In Wolf by Wolf, it's 1956 and Ya-el has escaped the concentration camp she was imprisoned in, but now she's a shapeshifter with an important mission. She has to assume the identity of a motorcycle champion to compete in the Axis tour. Her goal is to win and get a chance to meet the reclusive Hitler and assasinate him.
This story is great for 8th graders, especially those who are interested in Man in the High Castle and other World War II related fiction. It's also great for fans of werewolf tales and urban fantasy.
---
YA Books for 8th Graders
The Fixer
If your 8th grader prefers reading books set in the real world, they will enjoy the books in this section. This novel by Jennifer Lynn Barnes is a fun thriller that explores the secrets of Washington DC. Tess is sent to live with her older sister Ivy who is secretly DC's "fixer," someone who makes scandals disapear. Once Tess starts school, she finds herself in the roll of fixer for Hardwicke Academy. Soon both sisters find themselves wrapped up in the same conspiracy and realize what is really on the line.
This book is like House of Cards or Scandel but written for the 8th grade age set. This is a great read for any teens interested in politics or political scandals.
---
Pretty Little Liars
A lot of YA books for 8th graders have been turned into TV series or movies. This can actually be helpful in encouraging a teen to start reading if they're not already a book worm. The Pretty Little Liars series has been made into a hugely popular series, but the original books by Sara Shepard were bestsellers in their own right. Plus these books are addictive, so they're great to start a reading habit.
The story is about five beautiful girls who are friends, when their leader disappears, leaving the other four teens behind and full of secrets. Three years later they all start receiving threatening notes from a mysterious person. Now all of their secrets–big and small–could be revealed. The series includes 16 books, plus three companions novels, with plenty for your 8th grader to read.
---
The Princess Diaries
This is another series that was made into a movie, with a bit of a fairytale twist. These books by Meg Cabot follow the story of Mia, an awkward Freshman who is struggling with normal teen stuff when it is revealed her father is the crown prince of Genovia. That means Mia is a Princess and she's got even bigger worries now!
The Princess Diaries series currently has 16 books in it, so there's plenty to read. There's also the two Disney movies to enjoy. This is a great series to give to 8th grade girls.
---
Buying books as a gift? Consider adding some fun bookmarks.