All writers use pens, some obsessively collect them, obsessed with different types and colors. If you're looking for a unique gift for a writer or aspiring author you know, these fun–sometimes a little wild–pens are a great gift to pair with a notebook or journal gift, or make a great stocking stuffer. Pens are affordable gifts and the ones on this list will certainly make for a memorable present.
1. Syringe Pens (Check Reviews and Prices)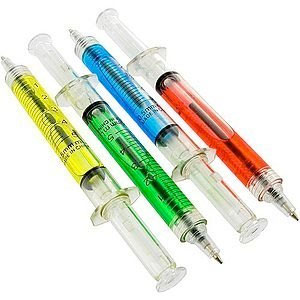 Give a writer a shot of creativity with these multi-colored syringe pens.
These ballpoint pens are made to look like a syringe with multi-colored liquid in each one.
This makes a great gift for authors of medical thrillers, medical romances, or even horror writers.
Note: while the pens are multi-colored, they all write in blue ink.
2. Bone Pens (Check Reviews and Prices)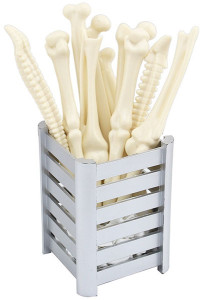 The perfect pen for writers and authors who write on the creepy side of genre or enjoy the macabre.
These novelty pens are shaped like bones including spines, arm, and leg bones.
These make a great gift for horror writers or writers of non-fiction related to medicine or anatomy.
Writes in black ink.
0.7mm ballpoint pens.
Holder is not included.
3. Tool Pens



There are multiple sets of these realistic and clever tool shaped pens:
Hand Tool Pens – wrench, screwdriver, nail, hammer
Not Very Dangerous Tool Pens – nail puller, saw, box cutter, needle nose pliers
Garden Tool Pens – hoe, pitchfork, shovel, and rake
Combine the above pen sets with this desktop miniature toolbox to create a completely unforgettable gift.
These are perfect for non-fiction writers of how-tos, or authors who are handy in their free time.
4. Electric Guitar Pens (Check Reviews and Prices)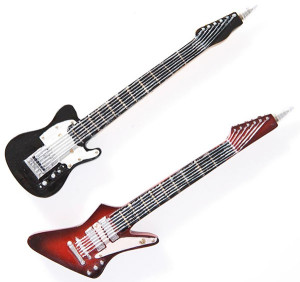 These hand painted resin pens make a rockin' gift!
These ballpoint pens are in the shape of electric guitars, either red or black.
Writes in black ink.
Try these pens as a gift for music critics, or writers of musician biographies.
If your writer is more of a dummer type, try these drumstick pens.
5. Octopus Tentacle Pen (Check Reviews and Prices)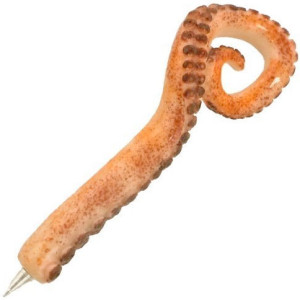 This tentacle pen may conjure memories of HP Lovecraft and Cthulhu, or pirate and sea stories that involve battling giant squids.
This pen is realistically crafted to look like an octopus tentacle.
Ball point pen.
Makes a great gift for writers of sea-based stories and non-fiction writers of ocean-related books and articles.
Also good for HP Lovecraft fans.
6. Food Pens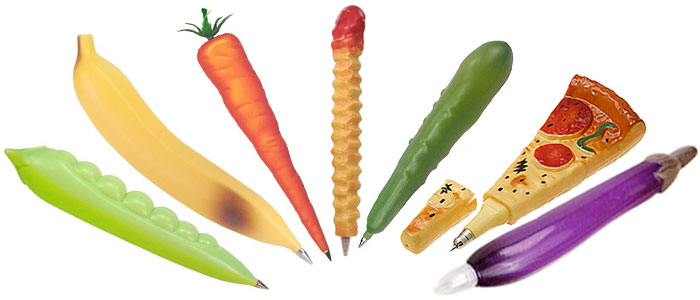 These food shaped pens make great gifts that may inspire a little hunger in the receiver.
These are great gifts for food bloggers, writers of recipe books, and authors of cozy food mysteries.
7. The Procrastination Pen (Check Reviews and Prices)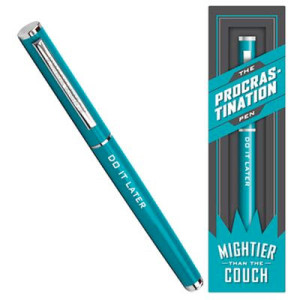 Perfect for the writer who puts things off until the last minute.
The Procrastination Pen has "Do It Later" written on the side.
Writes in black ink.
0.6mm refillable gel pen.
For a productive writer (or to give your procrastinating writer a little kick in the pants), get them the Get Crap Done Pen.
8. Paintbrush Pen (Check Reviews and Prices)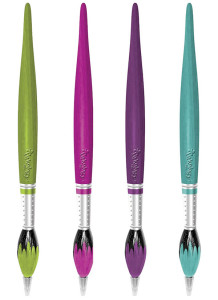 This pen is perfect for a writer who is also an artist (or thinks themselves an artist).
This ballpoint pen looks like a paintbrush dripping with ink, ready to create the author's next masterpiece.
Medium point pen.
Writes in black ink.
This is a great gift for children's book authors who also do illustrations.
9. Flower and Plant Pens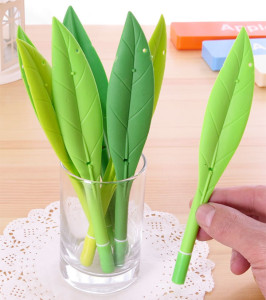 Combining a couple of these different types of pens, you can create a bouquet or desk plant for them to display on their desk that doubles as attractive writing utensils:
This is a great gift for non-fiction writers of gardening books or authors who happen to love gardening.
Add this pen holder to create a beautiful gift.
10. Novelty Prediction Pen (Check Reviews and Prices)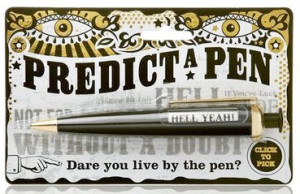 This pen combines the utility of a normal ballpoint pen with the fun of a Magic 8 ball.
Click the top and the Predict a Pen will give you an answer to guide your choices.
Perfect to help a writer during moments of writer's block or indecision over whether or not to kill a character.
Includes 6 predictive sayings.
11. Red Feather Quill Pen (Check Reviews and Prices)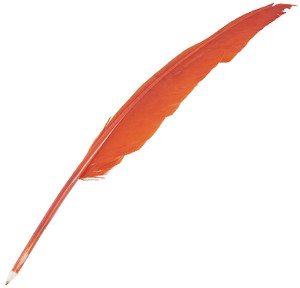 This is for the writer who loves the old school feel of a feather quill pen, but wants the convience of modern pen technology.
This ballpoint pen features a red feather for the look and feel of a quill pen. Also available in black and white.
Writes with back ink.
Perfect for writers of historical fiction and fans of Jane Austen.
Pair it with this antique paper or this antique, handmade leather journal for an unforgettable gift.
12. Maraca Pens (Check Reviews and Prices)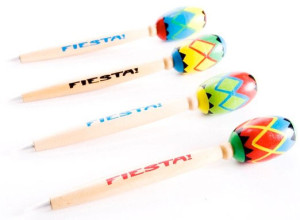 Put the party back in writing!
These pens are in the shape of maracas, so every moment of writing is fun!
"Fiesta!" is printed on the handle.
Comes in a variety of colors.
13. Cactus Pen (Check Reviews and Prices)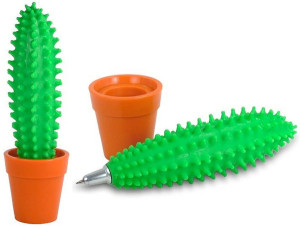 Another fun gift for writers who like to garden or could use a little green on their writing desk.
This cactus pen comes with a little pot that doubles as a pen cap and a stand.
The spikes are soft, so it makes for a comfortable writing experience.
Perfect for non-fiction writers of gardening books.
14. Dachshund Dog Pen (Check Reviews and Prices)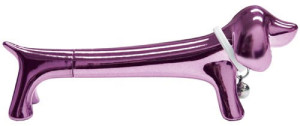 Add a little sparkle to the life of a dog loving writer.
This dachshund hound pen is metallic purple and stands proudly on any author's desk.
The dog is wearing a collar with a bell
Black ball point pen. Refillable.
This is a cute gift for any writer of dog related stories or just dog lovers in general.
15. Ninja Knife Pen (Check Reviews and Prices)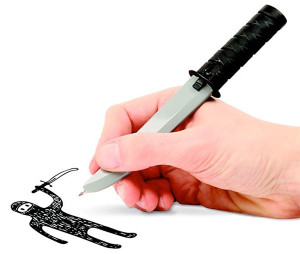 This pen is a little edgier than the others on this list.
This knife shaped pen makes a "Shining" noise when you click the pen tip.
Writes in black.
Ballpoint pen.
This is the perfect pen for horror writers and authors of detective mysteries and other mystery novels.
Add these nunchuck pens to create a fun gift for any ninja fan.
---
---