Toys stores these days are filled with cheap plastic toys made overseas in factories. These items often break easily, make a lot of noise, or don't inspire and educate children like the toys of old. Many parents and grandparents are looking for sturdy and meaningful handmade gifts for kids and babies. These toys are often made of wood or fabric and many are educational or personalized to match the child. Some crafty parents even make toys and gifts on their own. If you're not the DIY type, you're still in luck. There's plenty of options to buy handmade gifts for the children in your life.
With sites like Etsy offering toys and gifts made by artisans and crafters across the world and Amazon offering an entire section of their site dedicated to handmade items, it's easier than ever to find unique handmade gifts and toys for babies and kids. These gifts are great for Christmas gifts, stocking stuffers, Hanukkah gifts, birthday presents, or to give for any other special occasion. We've listed some of our favorite handmade toys below, categorizing them by age. You're sure to find something perfect for the child you're shopping for.
Handmade Gifts for Kids
Gifts for Babies (up to 12 Months)
Handmade Cotton Giraffe Baby Rattle
If you're looking for soft toy options for your baby, this rattle is a perfect choice. Handmade by Baby Majestic, a shop located in North Carolina, all of the soft rattles are made from eco-friendly materials and organic cotton. This soft giraffe features a rattle inside to soothe and amuse your baby. This toy is a great choice for baby shower gifts or first birthday gifts.
As a bonus, this rattle is machine washable, meaning you can always keep it free and germ-free for your child. Recommended for babies 6 months of age and older. The Baby Majestic shop also features other types of soft rattles, as well as origami baby mobiles, and Christmas tree ornaments.
---
Handmade Personalized First Name Puzzle
This is one of the best handmade gifts for kids that becomes an instant keepsake, especially if you're shopping for a baby or toddler. J&P Wood Products is an artisan shop based in Michigan and the specialize in making handmade wooden puzzles customized with your child's name. These puzzles are made when you order it, which means they will be able to feature the exact spelling of your kid's name (which you know can be tricky if your child has a unique name).
The puzzle features multicolored letters that are raised from the puzzle surface and easily grasped by little hands and fingers. Not only will this puzzle help your baby or toddler learn their name, but it also helps them develop motor skills and problem-solving skills. J&P Wood Products also offers a premium puzzle that features your child's name and the numbers 0-9. When you order you have a choice of primary colors or pastel colors. All paints and coats are non-toxic and safe for children. Dimensions: 4.25″ wide and 12″ – 24″ long (depending on length of name). Meant for children 6 months of age and older.
This makes a fantastic baby shower gift or first birthday gift.
---
Handmade Wooden Rocket Rattle
Rattles are a classic baby toy, used to soothe and entertain a tiny tot. They're also great to gnaw on when teething starts. However, most of the ones you find in stores are made of plastic which isn't necessarily the best for a toy that will end up in your baby's mouth. They have a variety of rattles available, including the wooden rocket rattle. Made from maple wood it's finished with a special mix of organic beeswax and flax seed oil so it is a safe and natural toy for your little one to play with.
The rocket rattle is 2.5″ x 4.5″, the perfect size for baby and toddler hands. Their rattles are made to order, so you can customize the bead colors and have it laser engraved with the name of your little one to turn this rattle into a precious keepsake. Recommended for babies 3 months of age and older.
---
Gifts for Toddlers (1 – 3 Years)
Handmade Custom Superhero Ragdolls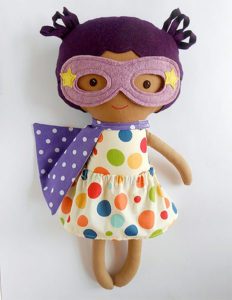 We absolutely love these dolls and have never seen anything like them in stores. La Loba Dolls is based in Hungary and makes these lovely custom handmade ragdolls. Each doll is a superhero and comes with a mask and cape. La Loba Dolls celebrates diversity, offering a variety of skin tones to help children have a sense of self-worth and view themselves as a superhero.
La Loba Dolls makes boy and girl superhero dolls and since they're handmade they can be customized for any hair color or skin tone combination. This means you can order a doll that looks just like your child by placing a custom order. That makes this a precious gift for any child that feels forlorn because the dolls in stores don't look like them. This is also a great gift for girls who are into comic books and superheroes. This doll will become a constant companion and best friend to your toddler or kid and makes a unique gift they will cherish.
The dolls are 19″ tall and handmade from cotton fabrics and wool felt and stuffed with hypoallergenic polyfill. Recommended for children 24 months and older.
---
Toddler Bath Crayons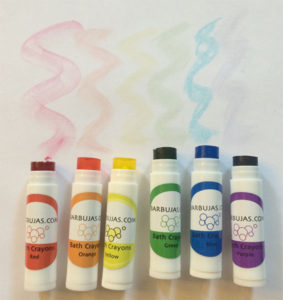 Sometimes getting a toddler in the bathtub can be a challenge. We ply them with toys and then try to get them to sit still as we wash their hair. Etsy seller MessyPlayKits has a great solution that will make your kid love bathtime while stimulating their creativity and getting them to sit still! These bright crayons are perfectly safe for your tub and are made from soap so they're safe for your kid too. They easily wash of skin, tile, and ceramic tubs without leaving any residue behind.
With these crayons, your kids will be begging to take a bath. MessyPlayKits also makes more bath kids (including the bath crayons and other fun bath toys) and other hands-on play kits to inspire your kid to be creative and messy during play time.
These bath crayons are affordably priced and make a great stocking stuffer. They are safe for ages 3 and up (the caps are a choking hazard, but you can give them to younger kids if you remove the caps first).
---
Deluxe Wooden Alphabet Blocks
Alphabet blocks have been a staple of nurseries and children's playrooms for over 300 years. (Seriously! English philosopher John Locke wrote about them in 1693.) ABC blocks make a great toy gift. They help build strength in children's fingers and hands while improving their hand-eye coordination. As children grow, they also help develop skills like mathematics, stimulate creativity and experimentation, and let them learn basic rules of gravity and balance.
Alphabet blocks in particular also help with learning letters, which are the basics of talking, reading, and writing.
This set of handmade wooden alphabet blocks is a beautiful set. They're made by Bannor Toys, which is a family business based in Iowa. This set includes 36 blocks: 26 letter blocks with corresponding pictures (B is for bird) and 10 number blocks with counting dots on the back. Comes in a drawstring bag for storage. The blocks are made from American-sourced hardwoods and finished with a proprietary beeswax and flaxseed oil finish that is non-toxic and safe for children. Each block is 1.5″ in size, the perfect size for small hands. Recommended for children 12 months and older.
---
Lacing Cheese Toy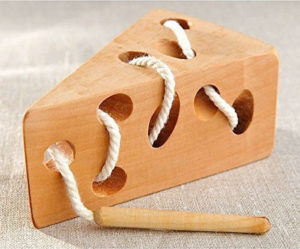 Another handmade wooden toy for toddlers, this block is crafted to look like a hunk of swiss cheese. Designed to help toddler develop hand eye coordination, fine motorskills, and lacing skills, there is a cotton rope with a wooden needle attached. Your child can lace the rope through the holes in a variety of patterns, helping to develop creativity and problem solving as well.
Recommended for children 12 months of age and older. Made by Wood Store Gifts, their shop is located in Russia (require slightly longer shipping times). They make a variety of handmade gifts for kids, with a focus on educational wooden toys. Their toys are beautifully crafted and completely unique–nothing like the plastic (or even wooden) toys you'll find in local big box stores. All of their items are sourced from natural and eco-friendly materials so they are safe for children.
---
Gifts for Preschoolers (3 – 5 Years)
Handmade Wooden Toy Train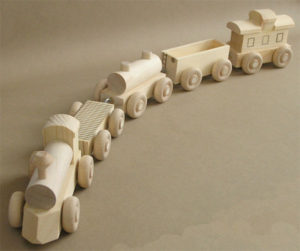 Aero1Toys is an Etsy shop that sells a variety of wooden trains and other handmade wood toys for kids, run by a man who has been a professional toymaker for over 29 years. These trains are designed for play without traditional tracks and do not work with other train toys. The lack of track is actually a bonus–it means the train is easier to store and takes up less space, plus it doesn't limit your child's play. The cars are connected with a hook and loop system and you can buy additional train cars to make even longer trains. All of the shop's toys are made from pine, birch, and maple woods in the USA.
The train pictured above is their paint-free train that has no stains, varnishes, or paints and is 19.5″ long. It features a locomotive, flat car, tank car, gondola car, and caboose. The shop also sells trains in a variety of colors and designs, including a circus train set, Army trains, and multi-colored sets. The painted trains feature lead-free finishes that are safe for children.
This train set is meant for children three years of age or older. It does contain small parts that could be a choking hazard for younger kids.
---
Modular Castle Tower Playset
When most people shop for handmade gifts for kids, they often don't think of shopping for doll houses or similar types of play sets. This handmade, wooden play set is a great choice of preschool age and older children. Made by Manzanita Kids in their Seattle workshop, the set is made from sturdy birch plywood, which is eco-friendly. All of their playsets are meant to be modular, meaning they can be assembled and arranged in many different combinations so your child can create a unique playset each day. When they're done playing, all of the pieces come apart for easy shelf storage.
Because the walls and floors are moveable, this playset is compatible with many sizes of dolls and toys. Your child will have no limit to their creativity or imagination with the castle set. Manzanita Kids makes a variety of wooden playsets like this, including smaller sets that can be used in combination. They also make a variety of other handmade wooden toys for babies and kids. This set is meant for children 3 years of age or older.
---
Children's Teepee Play Tent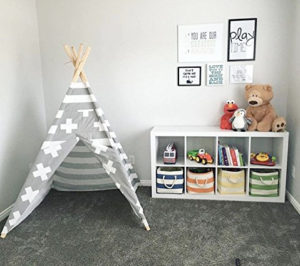 Plastic and cardboard tents and houses are common gifts for kids, but they pale in comparison to these beautiful handmade play tents. Made by Tiny Teepees, an artisan shop based in Utah, they offer a variety of handmade play tents for children. Available in different styles and colors, these tents are made of fabric with wooden rods. Meant for indoor use, add a rug and pillows and they become a cozy reading corner. These tents are perfect to inspire creative play for your children as they enjoy a play tent that is perfectly size for them.
The tents are shipped fully assembled. The tent pictured is 3 feet wide, 3 feet long, and 5 feet tall. Great for toddlers and children. Tiny Teepees also makes pet-sized teepees, but I don't know if they'd appreciate them as much as kids do.
---
Waldorf Hand Kites
This is a surprisingly simple gift that will inspire a lot of fun play time running around the yard. Just hand your son or daughter these hand kites and they will immediately run and jump as they watch the ribbons dance through the air. These hand kites are a great way to get kids to expend extra energy and creatively move their body and dance. It's such a magical experience, you may want to dance with them yourself.
Comes in a set of two hand kites. The rings are 2.75″ ride and finished with homemade beeswax wood polish. Each hand kite has six ribbons. The shop sells a variety of color options and also sell them in bulk at a discount perfect for classrooms or birthday parties. Made in the USA by Bright Life Toys. Intended for children 3 years of age or older and should be used under adult supervision.
---
Gifts for 6 – 10 Year Olds
Handmade Wooden Mancala Board
This mancala board is a gorgeous game set made by the Three Trees Workshop based in Missouri. Mancala is a game that's played around the world (often called "sowing" or "count and capture games") that's perfect for children and adults and it makes a great family game. (You can learn more about the history of mancala at Wikipedia.) The game is played with two players who take turns distributing beads around the board, with the objective of capturing the most stones. Playing the game helps develop counting and strategy skills. This is a great board game to add to your family game night that will become a cherished family heirloom.
This mancala board is handmade and available in cherry (pictured) or walnut wood and is made from local Missouri wood. The game also comes with American-made multi-colored glass beads for the playing pieces and a cotton storage bag. Instructions are included if you're new to the game. There is also an option to add a custom engraving for an additional fee. Recommended for children 5 years of age or older (not for children under 3 years, because the glass gems are a choking hazard).
---
Wooden Tic-Tac-Toe Game Set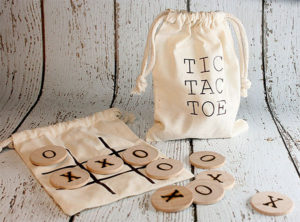 Tic Tac Toe is a classic game that is great for two players and easy to play anywhere. Now you can take the pen and paper out of the equation and play with this beautiful handmade sets. It's a brilliantly simple idea: there 10 wooden coins that work as the game pieces (5 X's and 5 O's) and a cotton drawstring bag (5″x7″). The bag is for storage but it's also the game board.
This ingenious game design is made by CCN Designs. Based in Alabama, this shop makes many beautiful handmade items for the home and for weddings as well. Intended for children 7 years of age and older. This gift makes a great stocking stuffer and is perfect to keep kids entertained during road trips and long plane rides.
---
Classic Wood Yo-Yo
YoYos are one of those classic toys that most kids become fascinated with in their childhood. And it's another type of toy that's been overrun with cheap Chinese plastic versions. Instead, you can buy your child this beautiful wooden yo-yo that will become a precious family heirloom. These handmade wooden yo-yos were created by CNN Designs, an artisan based in Alabama who makes wooden toys and home decor items.. Designed to work like a classic yo-yo, this toy is made from unfinished wood with a star pattern burned on the sides. It's also a great yo-yo for newbies to learn on.
Intended for children ages 6 years and older. The yo-yo size is 2.25″ diameter and 1″ wide.
---
Yard Yahtzee! AKA Yardzee!
This is a great game for the summer months that the whole family will love. Made by Creative Bitz, a shop based in New York, they've adapted the classic tabletop game Yahtzee to a super-sized yard version. It's played by the same rules as regular Yahtzee. You'll roll the oversized yard dice to score combinations and get the highest total score to win the game.
This Yardzee set comes with a bucket for shaking the dice, five large wooden dice, 2 laminated score sheets, and a dry erase marker. The entire set is made to order and can be customized with your choice of color for the dots on the dice and the decals on the bucket. You can also personalize the bucket with a name for an additional fee. This makes a great gift for any Yahtzee fan or for family and kids who love to be outdoors.
Check out more lawn games for family fun.
---
Looking for more gifts to enrich creative kids? Check out our articles on gifts for aspiring young authors and art gifts for kids and young artists.