All writers know the drill. Things are going great, you're speeding along on a new draft or just finished a story you're proud of. Then it hits. Maybe it's writer's block, self-doubt, or your internal critic getting in the way. Either way, you need a little inspiration to keep going. This page is a collection of 50 inspiring quotes to get you through those challenges and remind you of the magic of writing.
"That's what fiction is for. It's for getting at the truth when the truth isn't sufficient for the truth." – Tim O'Brien
---
"Start writing, no matter what. The water does not flow until the faucet is turned on."
–Louis L'Amour
---
"If there's a book you really want to read, but it hasn't been written yet, then you must write it."
-Toni Morrison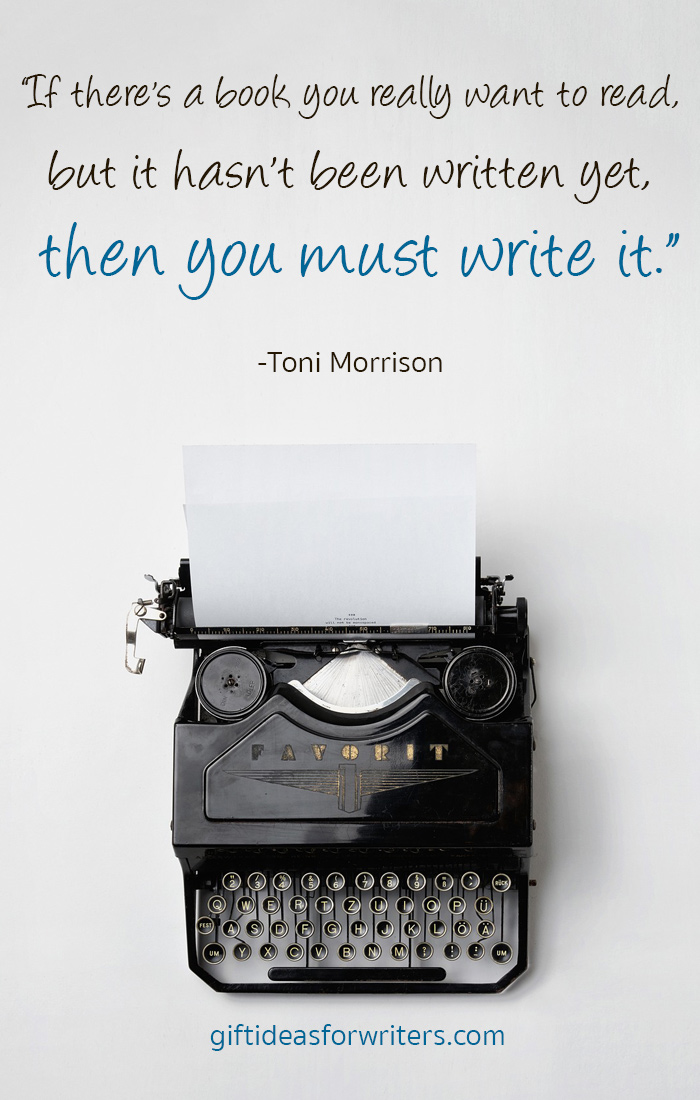 ---
"The first draft is just you telling yourself the story."
― Terry Pratchett
---
"Exercise the writing muscle every day, even if it is only a letter, notes, a title list, a character sketch, a journal entry. Writers are like dancers, like athletes. Without that exercise, the muscles seize up."
–Jane Yolen
---
"I start with a question. Then try to answer it."
–Mary Lee Settle
---
"I kept always two books in my pocket, one to read, one to write in."
–Robert Louis Stevenson
---
"Write. Rewrite. When not writing or rewriting, read. I know of no shortcuts."
—Larry L. King
---
"You can fix anything but a blank page."
–Nora Roberts
---
"If you write one story, it may be bad; if you write a hundred, you have the odds in your favor."
–Edgar Rice Burroughs
---
"Serious writers write, inspired or not. Over time they discover that routine is a better friend than inspiration."
–Ralph Keyes
---
"Good writing is rewriting."
–Truman Capote
---
"When asked, 'How do you write?' I invariably answer, 'one word at a time.'"
-Stephen King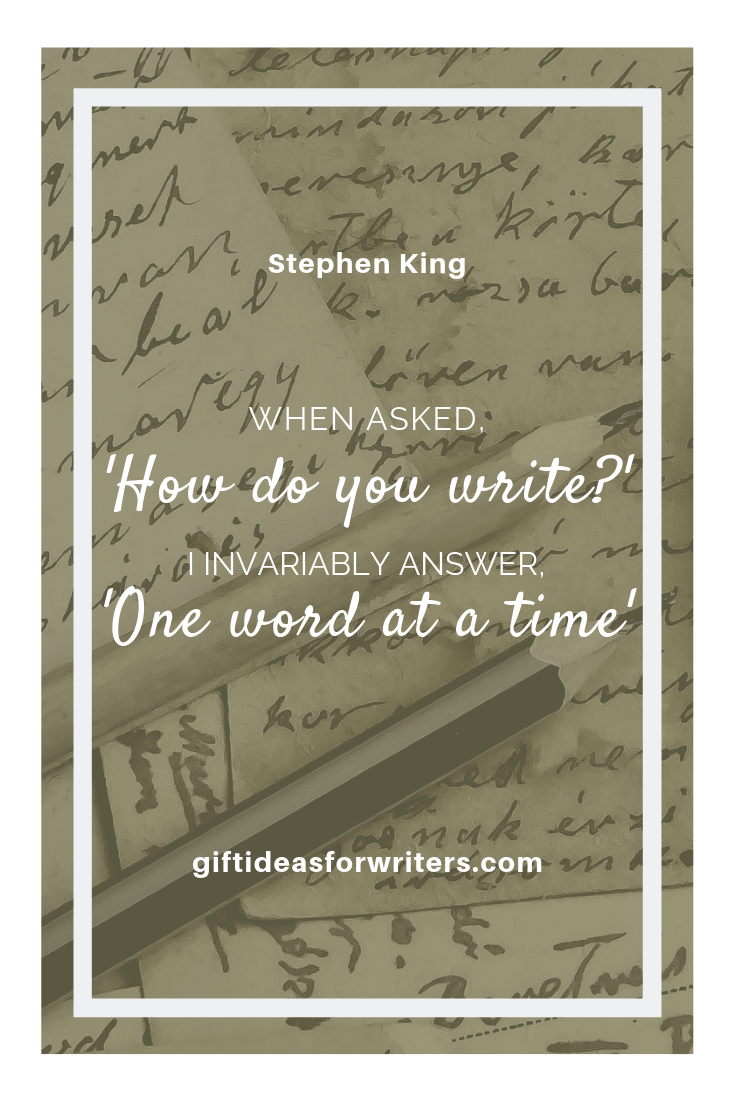 ---
"You have to write the book that wants to be written. And if the book will be too difficult for grown-ups, then you write it for children."
― Madeleine L'Engle
---
"This is how you do it: you sit down at the keyboard and you put one word after another until its done. It's that easy, and that hard."
–Neil Gaiman
---
"One thing that helps is to give myself permission to write badly. I tell myself that I'm going to do my five or 10 pages no matter what, and that I can always tear them up the following morning if I want. I'll have lost nothing—writing and tearing up five pages would leave me no further behind than if I took the day off."
—Lawrence Block
---
"It is perfectly okay to write garbage—as long as you edit brilliantly."
–C. J. Cherryh
---
"We write to taste life twice, in the moment and in retrospect."
–Anaïs Nin
---
"We are all apprentices in a craft where no one ever becomes a master."
–Ernest Hemingway
---
"Words can be like X-rays if you use them properly — they'll go through anything. You read and you're pierced."
― Aldous Huxley
---
"There are three rules for writing a novel. Unfortunately, no one knows what they are."
― W. Somerset Maugham
---
"There is something delicious about writing the first words of a story. You never quite know where they'll take you."
― Beatrix Potter
---
"Remember: Plot is no more than footprints left in the snow after your characters have run by on their way to incredible destinations."
—Ray Bradbury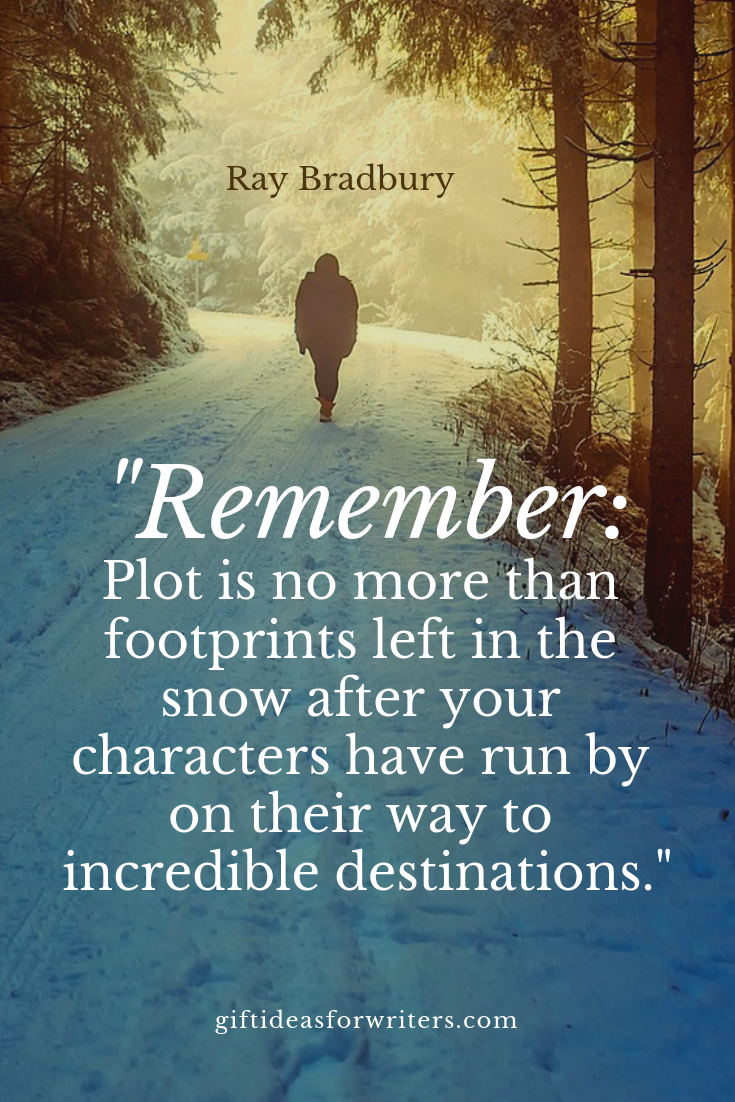 ---
"Don't tell me the moon is shining; show me the glint of light on broken glass."
–Anton Chekhov
---
"Imagination is like a muscle. I found out that the more I wrote, the bigger it got."
― Philip José Farmer
---
"I would advise anyone who aspires to a writing career that before developing his talent he would be wise to develop a thick hide."
—Harper Lee
---
"I hate writing, I love having written."
― Dorothy Parker
---
"Writing a novel is like driving a car at night. You can see only as far as your headlights, but you can make the whole trip that way."
-E.L. Doctorow
---
"You don't start out writing good stuff. You start out writing crap and thinking it's good stuff, and then gradually you get better at it. That's why I say one of the most valuable traits is persistence."
―Octavia E. Butler
---
"Ideas aren't magical; the only tricky part is holding on to one long enough to get it written down."
― Lynn Abbey
---
"Writing is not like painting where you add. It is not what you put on the canvas that the reader sees. Writing is more like sculpture where you remove, you eliminate in order to make the work visible. Even those pages you remove somehow remain."
-Elie Wiesel
---
"Description begins in the writer's imagination, but should finish in the reader's."
–Stephen King
---
"The best time for planning a book is while you're doing the dishes."
― Agatha Christie
---
"Indeed, learning to write may be part of learning to read. For all I know, writing comes out of a superior devotion to reading."
― Eudora Welt
---
"If you show someone something you've written, you give them a sharpened stake, lie down in your coffin, and say, 'When you're ready'."
― David Mitchell
---
"A word after a word after a word is power."
― Margaret Atwood
---
"A good book isn't written, it's rewritten."
― Phyllis A. Whitney
---
"Writing fiction is the act of weaving a series of lies to arrive at a greater truth."
― Khaled Hosseini
---
"You can always edit a bad page. You can't edit a blank page."
― Jodi Picoult
---
"Read deeply. Stay open. Continue to wonder."
― Austin Kleon
---
"Writing is the only thing that when I do it, I don't feel I should be doing something else."
― Gloria Steinem
---
"I write for the same reason I breathe – because if I didn't, I would die."
-Isaac Asimov
---
"A professional writer is an amateur who didn't quit."
-Richard Bach

---
"First forget inspiration. Habit is more dependable. Habit will sustain you whether you're inspired or not. Habit will help you finish and polish your stories. Inspiration won't. Habit is persistence in practice."
― Octavia Butler,
---
"Nothing's a better cure for writer's block than to eat ice cream right out of the carton."
― Don Roff
---
"And by the way, everything in life is writable about if you have the outgoing guts to do it, and the imagination to improvise. The worst enemy to creativity is self-doubt."
― Sylvia Plath
---
"A writer only begins a book. A reader finishes it."
― Samuel Johnson
---
"Yes, the story I am writing exists, written in absolutely perfect fashion, some place, in the air. All I must do is find it, and copy it."
-Jules Renard
---
"Don't get it right – get it WRITTEN!"
― Lee Child
---
Still need some inspiration? Check out this article on how to get out of a writing rut and these inspirational books for writers. Unstick your story with these tools for destroying writer's block.
Check out these photos of famous authors at their writing desks to help you get in the writing mood.