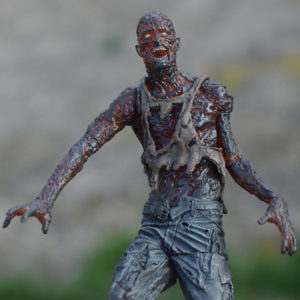 Zombies have been huge in popular culture in recent years, taking over TV, movies, and books. It's not a surprise that plenty of readers and writers absolutely love zombies. If you need gifts for zombie lovers, you're in luck. We have tons of creative, fun, and original gift ideas that will delight any fan of the undead. These include media, wearables, and tons of unexpected gifts for zombie fans. Check out the list and you may find something you love for yourself.
Essential Zombie Media & Book Gifts
If your loved one can't get enough Zombie movies or books, these gifts are perfect for them. They're also great for writers who enjoy crafting tales of the apocalypse and the undead.
1. Nights of the Living Dead: An Anthology
Many consider George A. Romero to be the father of modern zombie movies, but with this anthology he tried his hand at curating zombie literature. This collection is filled with stories of the undead by some of the hottest writers in the genre. As a bonus, it also includes an original story by George A. Romero himself.
Instead of being a random collection of stories, each was written to take place in the first 48 hours when the zombie outbreak began in the original Night of the Living Dead movie. These new stories are great for zombie fans who have already read a ton of the zombie genre. It's also perfect for fans of zombie movies and TV shows who want to try reading zombie stories.
---
2. 28 Days Later / 28 Weeks Later Double Movie Set
In 2002, director Danny Boyle completely revitalized the zombie movie genre with his film 28 Days Later. This essential modern zombie movie is available in a special DVD or Blu-Ray set with its sequel 28 Weeks later.
The story is about a man named Jim who wakes up 28 days after a zombie outbreak in London. The audience follows him as he discovers a deserted city and tries to figure out what has happened. This movie and the sequel are must watch for any zombie fan.
Check out stocking stuffers for movie lovers.
---
3. The Zombie Survival Guide
Help the zombie lover in your life be prepared for when their dream (or nightmare) comes true with this gift. The Zombie Survival Guide gives you everything you need to know to survive in a zombie apocalypse. It provides you will all the knowledge you need about the undead as well as defense tactics to protect yourself from them.
This is a fantastic gift that every zombie enthusiast should own!
---
4. The Art of Eating through the Zombie Apocalypse
If the loved one you're shopping for loves to cook in addition to enjoying the walking dead, then this is the perfect gift for them! This book combines 80 recipes along with post-apocalypitic advice of foraging and scavaging to whip up the perfect meal. What seems like a gag gift is an actually useful and informative guidebook to survive in emergency situations.
While you can make the recipes with traditions sourced from a traditional grocery store, you'll also be ready for culinary adventures in a post-apocalyptic dystopia. Cook delicious dishes like The End of Ra-man or I Want My Mommy Casserole and then learn how to track, hunt, and trap your own food. This is a great gift for zombie fans, preppers, and survivalists.
---
5. The Very Hungry Zombie
Many kids grow up reading the classic children's book The Very Hungry Catepillar. This is a creepy take on that tale, featuring an appropriately hungry zombie. Following the structure of the original, this tells the tale of a zombie eating his way through all of his favorite foods. Of course, in his case, the foods are people like astronauts, rock stars, and brains.
Full colors with illustrations that match the style of the original book, this is the perfect gift for zombie fans young and old.
---
Zombie Stocking Stuffers
These gifts for zombie lovers are all under $10 and perfectly sized to tuck into someone's stocking on Christmas. They're also great for gag gifts or Secret Santa gifts.
6. Bicycle Zombies Playing Cards
Perfectly sized for a stocking, this is a great gift for zombie fans. This is an official deck of Bicycle Playing Cards, but what sets them a part is they feature zombies. For these cards, they've taken the classic deck of cards and added an undead twist. The card backs are creepy crawly with a zombified king. All of the face cards feature classic illustrations of zombies. The distressed look of the cards really adds to the apocalypse feel.
---
7. Zombie Cookie Cutters
If you have a friend who enjoys baking, this gift is a must-have. This set of cookie cutters come with three shambling zombie options. Made from ABS plastic, they're perfect for making zombie-themed cookies for Halloween, birthday parties, or just an undead movie marathon.
These zombie cookie cutters come in a gift box, ready to slip into a stocking or a horror-themed gift bag.
---
8. Handmade Zombie Soaps
Soaps make a great gift for stocking stuffers or office gift exchanges. Soap is useful, and in the case of these zombie soaps, super cool. Made to order by NerdySoap, this set of ghoulish soaps comes with 3 zombies, 2 skulls, and a devil soap. When you order you get a choice of 11 different colors and 28 different fragances, so you can truly customize it for your zombie fan.
Creepy and fun, I guarantee your loved one has never received a gift like these soaps!
---
9. Zombie Rubber Duckie
Not many people would want to take a bubble bath with this duckie, but a zombie fanatic will be thrilled to find it in their stocking. This 4″ rubber duckie has gray skin and definitely looks like it's decomposing. A unique addition to any rubber duckie collection.
---
10. Zombie Dice Game
Perfectly sized and priced for a stocking, this game is a must have for zombie lovers. This Zombie Dice game is great for parties or any gathering with two or more players. It includes awesome zombie themed die. You play as a zombie and your goal is to eat brains. You roll the 13 dice in the hopes of getting brains to eat while avoiding getting shot and killed.
This is a great travel game for road trips and plane rides, perfect for kids 10 and up. Teens and adults will love this easy to learn zombie game too.
---
Coolest Gifts for Zombie Lovers
11. Zombie Apocalypse Survival Kit
If the Zombie apocalypse happens, we'll need more than a geeky knowledge of zombie movies and games to survive. That's why this survival kit is the perfect gift for zombie lovers. This cool-looking tin contains all the essentials to survive a zombie breakout, pandemic, or other post-apocalyptic scenarios. The gear in this kit includes a folding knife, an 11 in 1 multitool card, firestarter, paracord bracelet, a mini-compass, and more.
Along with the useful stuff, there's even some fun stuff like zombie warning stickers and a zombie hunting permit. Even if the zombie apocalypse never comes, this makes a great kit for camping or hiking, so it's fun and practical. Preppers will love it too.
---
12. Zombie Apocalypse T-Shirt
T-shirts make a great gift for geeky friends and family, and this is one of the funniest zombie shirts we've seen. This shirt says "The hardest part of a zombie apocalypse will be pretending I'm not excited." This shirt is perfect for zombie fanatics looking for a cool new graphic tee.
---
13. Chia Zombies
Chia pets make great gifts because they're a fun way to easily grow a plant in the shape of something you love. And, of course, there's an entire set of Zombie Chia Pets for those who love things creepy and undead. You can choose between busts of Creepy Holden and Lifeless Linda, or Dragging Drew, or just a Restless Arm shooting out of the ground as it is reanimiated.
The kit comes with everything needed to grow three rounds of greens. These look great on an office desk or displayed creepily at home.
---
14. Zombie Plush Slippers
Slippers are a comfy must have for everyone. So the gift of slippers–especially zombie slippers–is an unforgettable gift for any fan of the undead. These oversized plush slippers are super comfy and extra warm. You slide your feet into the zombie's mouths as if they're about to chow down on your legs. One size fits most (up to a men's size 12).
---
15. Zombie Plan Charm Bracelet
Any gal who plans to survive the zombie apocalypse needs a good plan. This cute and creative charm bracelet has the best plan represented in its awesome charms. Made by PlayBox, this silvertone charm bracelet with a variety of realistic charms for each part of the plan.
The charms include weapons (like a revolver and ammo), food and water (canned beans, bottle), tools (knife, hacksaw), and essentials (radio, first aid kit, map). Since the bracelet is made to order, you can request swaps on three of the charms for free to create a truly original bracelet.
---
Zombie Drinks and Treats
If you're looking for a weird and super original gift, there are plenty of strange snacks and candies made for zombie fans. These are great for gag gifts, stocking stuffers, or any other gift-giving occasion.
16. Zombie Blood Energy Potion
It's green and it comes in an IV bag! This creepy looking "Zombie Blood" is actually a lemon-lime flavored beverage. The consistency is that of zombie blood, so it's a slightly weird drinking experience. The best thing about this item, is the specimen bag is re-sealable, so even after your undead obsessed loved one enjoys their blood, they can refilled it or keep it as a cool storage bag.
---
17. Zombie Lollipops
I have never seen a candy this cool. These delectibly undead candies are handmade by I Want Candy US and feature edible images of zombies. These lollipops look so real that they will denight any zombie fanatic.
One order includes 6 individually wrapped 1″ lollipops in your choice of flavor.
---
18. Zombie Munch Apocalypse Survival Trail Mix
There's no time for cooking when you're on the move during a zombie apocalypse. That's when you need Zombie Munch! This tasty trail mix includes spicy and savory nuts and bits with a zombie theme. Makes a fun white elephant gift.
---
19. Zombie Poop Candies
Now this is a tasty treat that doesn't look unappealing, even if it has a kinda gross name. Made by Chocolate Weapons, this vintage bag of "Zombie Poop" is filled with bloody candy bones–which would be what zombies poop after they eat somebody. The cute vintage back includes a rhyme on the back about zombie poop, which makes this a great gift for zombie loving kids or adults alike.
---
20. Zombie Survival Energy Drink
When the zombie apocalypse happens, and you're being chased by a hoard of infected, you'll need a lot of energy. So any zombie lover will really appreciate this gift. This "Zombie Survival Can" is actually an energy drink perfect to keep you going in any post apocalypse scenario.
While this is designed to look good on a shelf, it's also good to drink. Reviewers describe its flavor like a citrusy Red Bull. It makes a great gag gift or the perfect addition to a zombie gift bag.
---
Looking for more unique and fun gifts for your loved ones. Check out unicorn gift ideas, mermaid gifts, and gifts for sloth lovers.
Want to see fun and creative gifts for writers and book lovers? Try our megalists of gifts for writers and gifts for readers.